Energy operations lead corruption prosecutions
Houston Business Journal
Deon Daugherty
December 27, 2011
Although the energy industry tops the list of violations of the Foreign Corrupt Practices Act, it's important to realize the oil and gas business sometimes operates in parts of the world where what looks like a bribe under U.S. law might be considered a gift elsewhere.
A new study by the James Mintz Group, a corporate investigations firm in New York, found that the FCPA of 1977 has led to the prosecution of more than 200 cases in 80 countries and more than $4 billion in sanctions – almost half of those financial penalties were levied against companies operating in the energy sector.
However, white-collar crime experts say those stats don't necessarily mean nefarious folks are running oil and gas companies.
"All of these companies operate in very difficult parts of the world," said Houston attorney,

Philip Hilder, managing partner of the
Hilder & Associates, PC law firm. "They've got to do a very delicate balancing act between operating legally under U.S. law and actually being able to compete on a global market with and against other companies from other countries that may be less than ethical.
"I wouldn't take the fact these companies have been prosecuted to say there's a corruption epidemic out there," he said. "The lesson to be taken away is it's important to have a compliance program in place and a strong code of conduct going forward because … big brother is looking over your shoulder."
---
Investors await justice as Stanford case crawls
Houston Chronicle
Purva Patel
December 18, 2011
Nearly three years after former Houston billionaire
R. Allen Stanford's arrest, investors who lost money in an alleged $7 billion Ponzi scheme still wait for resolution: a trial, restitution, some sign of justice.
The case is scheduled for another step Tuesday, when Stanford, 61, is scheduled to appear in Houston federal court for a hearing to determine if he is competent to stand trial.
That will be the latest link in a long and complex chain that includes repeated changes in Stanford's legal representation, and a jailhouse fight that resulted in drug dependency and possible brain damage.
Defendants can have mental defects or brain injuries and still be competent to understand the proceedings against them and help in their defense, said Sorrels, who has won a case for a client judged not guilty by reason of insanity.
Philip Hilder, a Houston attorney and former federal prosecutor, noted that while drug dependency usually can be treated, the severity of Stanford's head injury could be another matter.
---
Enron wasn't all bad news for one couple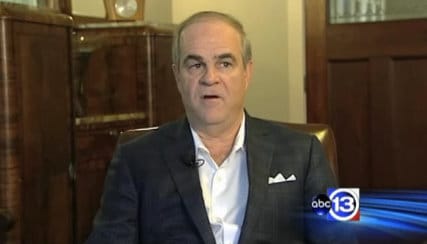 abc 13
Jessica Willey
December 2, 2011
Ten years ago, we saw hundreds of shocked employees packing up and heading out. "It was a very very dark day," Attorney
Phillip Hilder said.
Hilder represented Sherron Watkins, now dubbed the Enron whistle blower, "She was as cool as a cucumber,"
Hilder said. He was with her when she testified before Congress. "Enron is a tale of greed and I think that if there is a lesson to be learned is that greed can corrupt even good people and good ideas,"
Hilder said.
---
Houston Chronicle
November 28, 2011
Purva Patel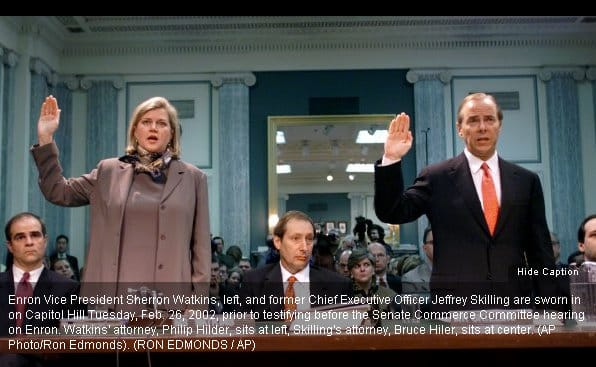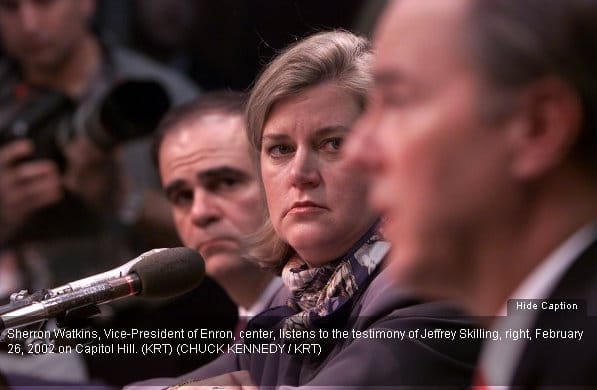 For Sherron Watkins, telling the story of Enron's downfall never seems to get old.
The former Enron vice president who tried to warn other top executives of flaws in the company's accounting has since been traveling the world to talk about Enron, ethics and leadership to trade groups and corporate executives.
With Houston writer Mimi Swartz, Watkins co-authored Power Failure: The Inside Story of the Collapse of Enron and was named one of Time's Persons of the Year in 2002.
In the middle of the decade, she thought the story had grown stale and started talking about other topics, but audiences still wanted to hear about the fallen energy giant.
She compares the company's collapse to a car wreck that passers-by can't help slowing down to observe.
"People want to know the lessons learned and that it can't happen to them, but there's also still the fascination of what was a giant implosion," she said.
Sherron Watkins is a client of
Philip H. Hilder.
---
6th Annual ABA National Institute on Securities Fraud
On November 3-4, 2011 Philip Hilder co-chaired the American Bar Association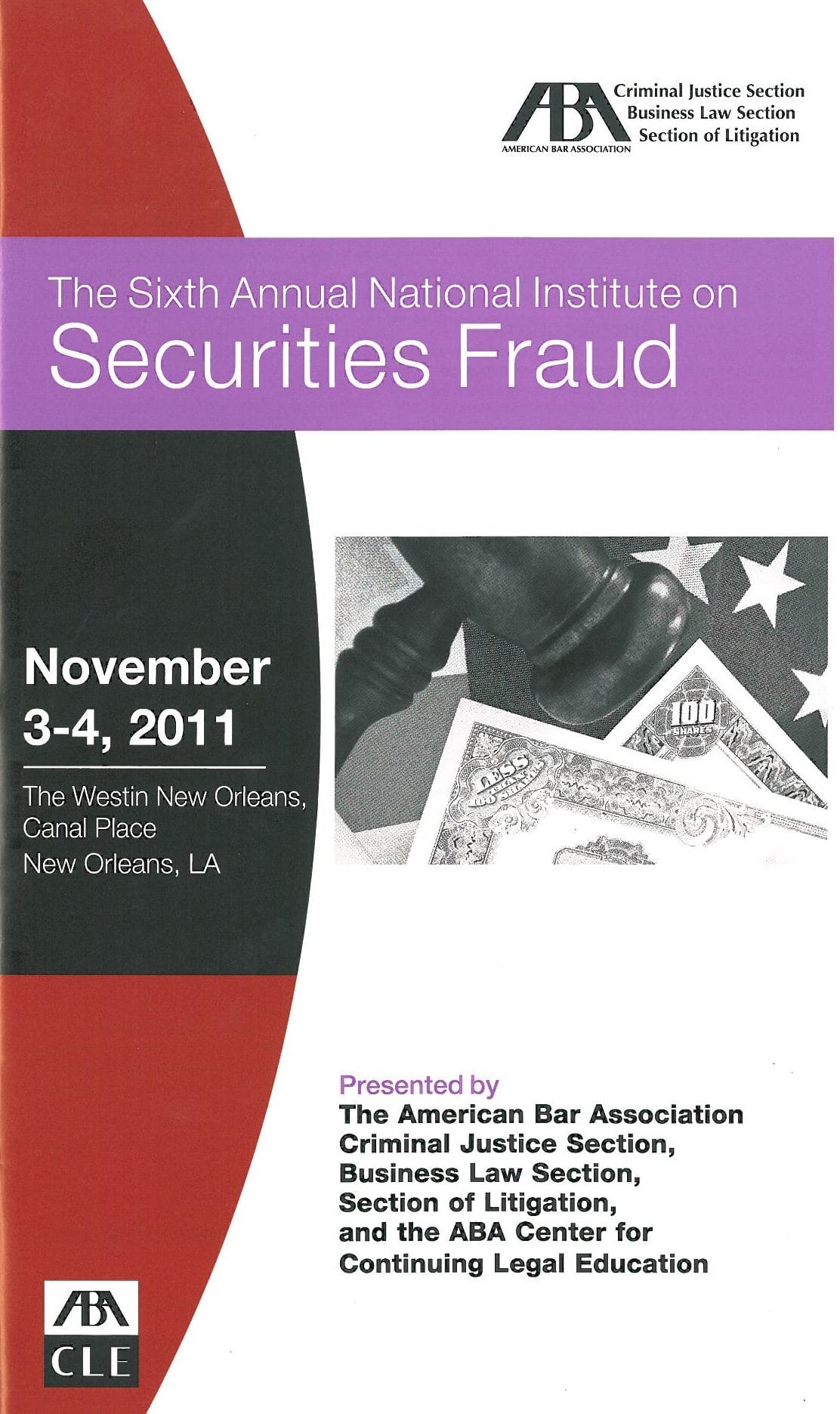 on 6th Annual National Institute on Securities Fraud held in New Orleans. The program faculty also included Lanny Breuer, Assistant Attorney General, Criminal Division United States Department of Justice and Robert S. Khuzami Director, Division of Enforcement United States Securities and Exchange Commission.
---
6th Annual ABA National Institute on Securities Fraud: Social Media Panel
On November 4, 2011 Philip Hilder moderated a panel dealing with the use of social media in defending a client at the ABA National Institute on Securities Fraud in New Orleans. The panel included Carrie Johnson, Justice Correspondent with National Public Radio and Kara Scannell, white collar crime reporter for the Financial Times. Mr. Hilder is the co-chair of the program.
Click for Power Point Presentation
---
Independent Police Oversight Board of Directors
Philip Hilder was confirmed to serve on the Independent Police Oversight Board of Directors by Houston City Council on October 26, 2011 after being appointed by Mayor Parker. The purpose of the Board is to review internal police investigations of possible misconduct by the Houston Police Department that involve allegations of excessive force, discharge of firearms, serious bodily injury or death, serious internal investigation, and mistreatment of citizens.
---
BNP Paribas Sued by U.S. Over Banker's Alleged Role in Fraud
Bloomberg
Laura Brubaker Calkins
October 19, 2011
BNP Paribas SA was sued by the U.S. over allegations the Paris-based bank aided a grain export fraud scheme involving commodity payment guarantees provided by the Department of Agriculture.
When the Mexican importers defaulted on payments for dozens of grain shipments from 1998 to 2006, BNP and Jovenal "Jerry" M. Cruz, its former trade finance manager, "presented or caused to be presented false or fraudulent claims to the USDA," Zingaro said in the complaint, which also names Cruz, BNP Paribas North America and BNP Paribas Houston Agency as defendants.
Philip Hilder, Cruz's attorney, said in a phone interview that the former BNP vice president has entered a plea of not guilty and is awaiting trial in February. Three other people charged in the scheme have pleaded guilty and are awaiting sentencing, according to court records.
---
Wall Street Journal, Sherron Watkins
October 17, 2011
The Wall Street Journal has featured stories on Enron and the role of whistleblower Sherron Watkins.
Philip Hilder represented Ms. Watkins before congress and in the dealings with the Government.
The Shadow of Enron Still Lingers
---
Eversole expected to plead guilty this morning
Houston Chronicle
Mike Morris
September 30, 2011
Harris County Commissioner Jerry Eversole, who
announced his resignation from office last week as part of an
apparent plea deal, is expected to formalize that deal this morning in federal court.
Eversole and his codefendant Mike Surface will appear before U.S. District Judge David Hittner at 10 a.m.
Sentencing will follow at a later date, perhaps not until next year, said
Philip Hilder, a former federal prosecutor who is not connected to the Eversole case.
---
News Corp.'s other hacking scandal
POLITICO
September 29, 2011
Firm client Robert Emmel is in the news and referred to in the Politico's story "News Corp's other hacking Scandal.
---
Eversole may enter guilty plea Sept. 30
Houston Chronicle
Mike Morris
September 22, 2011
Harris County Commissioner Jerry Eversole, who on Monday
announced his resignation as part of an apparent plea deal, appears likely to formalize that deal in a federal court Sept. 30, according to documents filed with the court this afternoon.
The document, a "notice of setting," says Eversole and his co-defendant Mike Surface will appear before Judge David Hittner at 10 a.m. on Sept. 30 for a "re-arraignment hearing."
"It is a confirmation that a plea deal has occurred and that a plea of guilty will be officially entered by the court to the charges contained in the criminal information," said former federal prosecutor
Philip Hilder, who is not connected to the Eversole case.
---
Eversole resigns; Emmett to appoint successor
Mike Morris
September 19, 2011
Houston Chronicle
Harris County Precinct 4 Commissioner
Jerry Eversole, weeks away from being retried on federal corruption charges, on Monday announced his resignation from office, effective Oct. 1.
Eversole submitted a resignation letter to County Judge
Ed Emmett's office at 2 p.m. About 4 p.m., the U.S. Attorney's Office filed court documents that suggest Eversole's resignation was part of negotiations with prosecutors that could see him and his co-defendant plead guilty to lesser charges, legal experts said.
The
Department of Justice has alleged Eversole took nearly $100,000 in cash and gifts from friend
Michael Surface in exchange for steering lucrative county contracts to companies in which Surface had an interest. Eversole has denied any wrongdoing, and his attorneys have characterized the government's case as criminalizing a friendship.
Documents filed with the court Monday suggest Eversole – who is facing four charges – may plead guilty to one count of making a false statement to FBI agents, said former federal prosecutor

Philip Hilder. That charge carries up to five years in prison and a $250,000 fine.
---
News Corp. and Enron: scandals with much in common
Philip Hilder
September 18, 2011
Houston Chronicle
Corporate culture takes root in the statements, behavior and tolerances of those at the top. Honesty and honor can flourish in a business when practiced by its leaders. And deceit and concealment can become the mores of a company when employees are led in that direction.
When captains of industry build a corruption-endorsing culture, they seem to also later disavow responsibility and knowledge. So it goes right now for
Rupert Murdoch in the News Corp. phone hacking scandal and so it went a decade ago for the late
Ken Lay in the
Enron financial scandal.
From the vantage point of people in the corporate ranks who saw trouble brewing, the current News Corp. disgrace has a lot in common with Enron's 2001 fall. As the current lawyer for
Robert Emmel, a
News America (a News Corp. subsidiary) whistle-blower, and the former lawyer for
Sherron Watkins, an Enron vice president who famously warned of impending doom at the company, I see unpleasant similarities too.
---
News Corp. Ex-Employee Said Contacted in U.S.
Tom Schoenberg
September 16, 2011
Bloomberg
Prosecutors investigating hacking and bribery allegations at
Rupert Murdoch's
News Corp. (NWSA) are seeking to interview a former employee of a U.S. unit who claims knowledge of illegal activity at the company, according to a person familiar with the matter.
U.S. prosecutors in
Manhattan this month contacted a lawyer for Robert Emmel, a former account director at News America Marketing In-Store LLC, about allegations of hacking and possible violations of the Foreign Corrupt Practices Act, said the person, who wasn't authorized to discuss the matter.
Philip Hilder, a lawyer for Emmel, said in an interview that "authorities have reached out" to him.
Hilder declined to identify the investigators or what they are seeking.
---
Investigators Reach Out To News Corp. Whistleblower In U.S
Eric Boehlert
Media Matters
September 16, 2011
In another sign that allegations of News Corp. misconduct are being closely reviewed by law enforcement in the United States in the wake of the company's sweeping phone-hacking scandal in Britain,
Media Matters has learned that investigators have reached out to Robert Emmel, a former News Corp. employee turned-whistleblower.
Now, in the wake of the widespread phone-hacking done by Murdoch's tabloid journalists in Britain, U.S. investigators are taking a fresh look at the News America allegations and for the first time have reached out to Emmel, confirms
Philip Hilder, an attorney for Emmel.
---
ABA Appointment
On August 5, 2011
Philip H. Hilder, Hilder & Associates, P.C., was appointed National Vice Chair of the ABA-Criminal Justice Section – White Collar Crime Committee at the ABA annual meeting held in Toronto, Canada
---
Did a Top GOP Staffer for Sen. Grassley Cover Up Evidence of News Corp Hacking In The US?
Thinkprogress
September 7, 2011
Lee Fang
A top investigator for the Senate Finance Committee, working under Sen. Chuck Grassley (R-IA), may have had smoking gun evidence of News Corp's hacking activity. While News Corp's British subsidiaries have received the most media attention for systematically hacking the cell phone and personal records of private citizens, the public still has heard little of allegations relating to similar conduct perpetrated by News Corp against its American competitors. ThinkProgress has learned that not only did a sensitive tip come to Grassley's office about News Corp's cyber attacks against other American companies, but authorities may have failed to look into the matter partially because a staffer named Nick Podsiadly allegedly never
followed through on his promise to the whistleblower.
Podsiadly, as it turned out, may have never opened an inquiry or passed along Emmel's tip to the Department of Justice. A spokeswoman for Grassley
explained to the Guardian that ongoing litigation prevented the committee from action:
A spokeswoman for the finance committee said
nothing would be done with any documents sent by Emmel until the litigation over them had ended. Emmel today remains under a court-imposed injunction that forbids him from disclosing anything from these documents. "I cannot comment," he said.
Philip Hilder, Emmel's attorney, is not buying the committee's excuse for not investigating the matter. "What litigation? I'm not sure at the time there was any litigation that they were referring to."
Hilder explained that to his knowledge the tip was never referred to the Department of Justice either. "I have no idea what if anything Mr. Podsiadly did with the information," said
Hilder, a former federal prosecutor.
---
Hacking exposes holes in officers Web security
Houston Chronicle
September 3, 2011
By: Terry Langford
A cyber-attack on the email accounts of Texas police chiefs revealed the vulnerability even of the state's top cops and appears to have prompted a new investigation into a notorious hacking group.
The stealthy group known as Anonymous claimed responsibility for "Texas Takedown Thursday." The email accounts of 25 members of the Texas Police Chiefs Association were compromised and their contents posted online.
Philip Hilder, a Houston defense attorney and former federal prosecutor, said the group's members could be prosecuted under Texas or federal laws prohibiting unauthorized access to computer systems.
"I think it just underscores how fast technology is moving and that really it seems that no system is above a potential breach," Hilder said.
---
Is Rick Perry Ready to Execute an Innocent Man?
The Nation
Jordan Smith
Swearingen was scheduled to die on August 18. But his execution was stayed in late July by the state's highest criminal court, the notoriously pro-prosecution Court of Criminal Appeals, in order to have the trial court consider new evidence: Histological samples of Trotter's cardiac, lung and vascular tissue that a growing number of doctors, including well-respected Texas pathologists, say show conclusively that Swearingen could not have killed Trotter.
Had Swearingen's lawyers focused on the medical evidence more closely, they could have built another road-the one that
Rytting has been developing since taking the case on appeal: medical proof does not match the state's theory of the case, and points strongly toward another killer, he says. Evidence left unexplained includes male DNA found in Trotter's fingernails, which does not match Swearingen. But more importantly, there is the tissue evidence that more than a half-dozen respected forensic scientists from Texas and beyond say is completely inconsistent with the state's theory of Trotter's death.
---
Goldman Sachs CEO hires criminal defense lawyer
LA Times
August 23, 2011
Nathaniel Popper and Walter Hamilton
Goldman Sachs Chief Executive Lloyd Blankfein has hired a prominent Washington criminal law attorney to defend him against any charges resulting from government investigations into the financial crisis.
The decision to bring on a top legal name such as Weingarten suggests how seriously Blankfein is taking the investigation and that there could be a new push to investigate the firm and its executives on criminal grounds. The move to hire an outside attorney was first reported by Reuters.
"He's got an incredible amount to lose, and there's a lot of anger out there," said
Philip Hilder, a criminal-defense attorney in Houston. "It signifies that the investigations are serious in tone and that he's not taking them lightly."
---
A life unravelled … whistleblower who incurred wrath of the Murdoch empire
guardian.co.uk
Ed Pilkington
August 17, 2011
Also in the

Huffington Post


Five years ago Robert Emmel was enjoying the American dream. He lived in a detached house in a suburb of Atlanta, Georgia, drove a BMW, and earned $140,000 a year as an accounts director in a highly successful advertising company called News America Marketing.
Today, Emmel is described by his lawyers as destitute. Jobless and in debt, he was discharged from bankruptcy last year. He does occasional consultancy work that last month brought in $500, and this month, court documents show, will probably produce nothing. His wife's earnings raise monthly household income to about $3,000 – half their outgoings.
This is a cautionary tale about what can happen to someone who dares to become a corporate whistleblower. Or, more specifically, someone who incurs the wrath of
News Corporation, the media empire owned by Rupert Murdoch, of which News America forms a part.
Emmel's lawyer,
Philip Hilder, has had a ringside seat at the gradual unravelling of his client's life. A former federal prosecutor based in Houston, Texas,
Hilder is well versed in whistleblower cases having represented Sherron Watkins, who helped uncover the Enron scandal.
Hilder said: "News America has engaged in Rambo litigation tactics. They have a scorched earth policy, and it's taken a huge toll on him."
Emmel today remains under a court-imposed injunction that forbids him from disclosing anything from these documents. "I cannot comment," he said.
Hilder said he was struck by an irony in the Emmel case. "Here is a company, News Corp, that is in the business of disseminating information to the public, and yet its subsidiary does everything in its power to silence him."
---
News Corp division comes under scrutiny
Kara Scannell
Financial Times
August 9, 2011
Following the
phone hacking scandal in the UK, claims of computer hacking and other anti-competitive behaviour against a supermarket advertising company that is a unit of

News Corp have attracted the attention of US officials.
In-store advertiser Floorgraphics sued News America Marketing, a News Corp division that sells newspaper inserts, coupons and in-store advertising, in 2004 for allegedly engaging in anti-competitive tactics, including hacking into its password-protected computer system in order to access proprietary advertising contracts.
Robert Emmel, a News America employee turned whistleblower, testified at the Floorgraphics trial and also provided documents to Senate investigators and others in 2006.
Mr Emmel's attorney,
Philip Hilder, said his client "in the past had provided information to the authorities regarding News America. To date, he has not been subpoenaed to follow up."
---
In Murder Case, Science May Get Its Day in Court
Brandi Grissom
August 7, 2011
New York Times/ Texas Tribune
In a rare move last week, the notoriously pro-prosecution Texas Court of Criminal Appeals stayed Mr. Swearingen's scheduled Aug. 18 execution and ordered a lower court to review his claims of actual innocence.
For Mr. Swearingen and his lawyers, the stay was a big victory. "This stay acknowledges powerful scientific evidence of innocence,"
Mr. Rytting said.
---
Finite convictions overturned
Business Insurance
Sonya Ryst
August 7, 2011
Former executives of General Re Corp. and American International Group Inc. convicted in 2008 in connection with a bogus finite reinsurance deal have been given another chance to clear their names.
A three-judge panel of the 2nd U.S. Circuit Court of Appeals in New York last week overturned the convictions and ordered a new trial, ruling in part that the jury had been improperly instructed.
"It was a meritorious decision by the court," said
Philip Hilder, a former federal prosecutor who is in criminal defense at
Hilder & Associates P.C. in Houston. "There were infirmities that needed to be addressed…and the government will have another bite of the apple."
---
Feds allege 'fraudulent schemes' by sports booster
Houston Chronicle
August 1, 2011
By Purva Patel and David Barron
Basketball booster David Salinas, his companies and a business associate took money from clients for investment in bogus corporate bonds, regulators said today as they moved to seize company assets.
Former federal prosecutor
Philip Hilder, a Houston attorney who specializes in white collar crime cases, said today's civil filings Monday are among the first steps in a process that could take several years and is still not likely to satisfy investors who may have lost money.
Recovery is always spotty, and investors never get paid back the full amount that they have lost, he said. "It's premature to speculate what investors may be able to recoup, and it's fair to say that it won't be to their satisfaction."
---
Condemned inmate Swearingen gets reprieve
Houston Chronicle
July 29, 2011
Renee C. Lee
Death row inmate Larry Swearingen has dodged an execution date for a third time in the 1998 slaying of a Montgomery County college student.
The Texas Court of Criminal Appeals ruled Thursday that new evidence in Swearingen's appeal raised the issue of due process violation. The court remanded the case to the 9th state District Court in Montgomery County for a hearing.
Swearingen's attorney,
James Rytting, said his client was convicted on false forensic testimony. A former Harris County medical examiner who testified during Swearingen's capital murder trial changed her testimony in 2007.
"It was a courageous decision by the Texas Criminal Court of Appeals,"
Rytting said. "It was the right decision, and it acknowledges the science in this case is powerful proof that Mr. Swearingen could not have committed the crime."
---
Stay Of Execution granted for Firm Client Larry Ray Swearingen
Firm announces a stay of execution of Larry Ray Swearingen by the Texas Court of Criminal Appeals. Firm attorney
James G. Rytting was able to secure a stay of execution that was scheduled for August 18, 2011. The Court remanded the Application to the trial court to review and resolve the claims raised.
---
Troubles That Money Can't Dispel
David Carr
The New York Times
July 17, 2011
The News Corp scandal has exposed a wide troublesome corporate culture for the company. Bob Emmel was the whistleblower on a related Murdock company, News America. Due in large part to Mr. Emmel's testimony, the company has paid out over $650 million to settle lawsuits. Philip Hilder of Hilder & Associates, P.C. represents Mr. Emmel.
---
Obama nominates Magidson for top federal prosecutor post
Houston Chronicle
Brian Rogers
June 28, 2011
President Barack Obama on Tuesday chose four nominees for the top federal prosecutor positions in Texas, including Kenneth Magidson for the Houston-based Southern District of Texas.
Before Tuesday's nominations, 12 of the 93 U.S. attorney posts in the country had remained unfilled, including four in Texas.
Phillip Hilder, a friend and colleague of Magidson's, said the career prosecutor is apolitical, which afforded him the appointment by Perry in 2008, then a federal nomination three years later by a Democratic president.
"Kenny ultimately understands that a prosecutor is supposed to seek justice, which can be an unpopular move," said
Hilder, a former federal prosecutor who worked with Magidson in the 1980s. "It's clear his appointment is based on his competency – not his politics."
He also said Magidson is uniquely qualified to understand the district where he has worked for 28 years.
---
Aug. 18 execution date set for Conroe student's killer
Houston Chronicle
Renee C. Lee
June 28, 2011
A judge has set an Aug. 18 execution date for condemned killer Larry Swearingen, who has twice eluded lethal injection for the slaying of a college student in Montgomery County.
Swearingen was convicted in 2000 for the kidnapping, rape and strangulation of 19-year-old Melissa Trotter, a Montgomery College student who disappeared from the Conroe campus on Dec. 8, 1998. Her body was found nearly a month later in the Sam Houston National Forest with a piece of pantyhose around her neck.
The Texas Court of Appeals denied Swearingen's most recent petition in February 2010.
Swearingen's attorney,
James Rytting, said he has filed another petition with the Texas Court of Criminal Appeals.
Swearingen won stays of execution in January 2007 and January 2009. In each case, the reprieve came a day before his execution.
---
Judge rules environmentalist lawsuit against Enron can proceed
Erwin Seba
June 8, 2011
Thompson Reuters
A federal judge on Tuesday said two environmental groups' could sue for enforcement of federal pollution standards at Exxon Mobil Corp's Baytown, Texas, refinery, the nation's largest.
Exxon, the largest U.S. refiner, had asked federal Judge David Hitner to throw out the lawsuit because the Baytown refinery is already subject to federal Clean Air Act enforcement by the U.S. Environmental Protection Agency.
For the plaintiffs:
Philip Hilder of Hilder & Associates; Bracha Etengoff, Joshua Kratka and Charles Caldart of National Environmental Law Center; David Nicholas.
---
Family accused of stealing $13M from energy firm
Brian Rogers
June 6, 2011
Houston Chronicle
Harris County prosecutors today said a former accountant and several members of her family stole more than $13 million from a Houston oil and gas company over 10 years.
Nancy Moreno is accused of paying dummy accounts with company money while working at Davis-Lynch, an oilfield service company. Moreno set up the bogus accounts to funnel money to herself and several relatives.
Philip Hilder, an attorney for the Trevinos, declined to comment, saying he will argue the couple's case in court.
---
Former Enron prosecutor to take top White House job
Tom Fowler
Houston Chronicle
June 2, 2011
A former prosecutor of Enron executives has been tapped to serve as President Barack Obama's top lawyer. Ruemmler, now 40, was among the youngest of the attorneys involved in the Enron cases when she joined the Enron Task Force. The Richland, Wash., native and Georgetown University Law Center grad became second in command of the group when former Enron Chairman Ken Lay and CEO Jeff Skilling went to trial in 2006. She gave the closing argument for the government.
Philip Hilder, a Houston defense attorney who represented a number of former Enron workers who were witnesses, praised Ruemmler's work. "She has a profound sense of justice and doesn't see her role as one to win at all costs,"
Hilder said. "She was deliberate and thoughtful in her actions, not one who would shoot from the hip. "While some Enron prosecutors drew the ire of the defense bar, Ruemmler was consistently reasonable to work with,
Hilder said.
---
Galleon verdict shows power of wire taps
Kara Scannell
FT.com
May 11, 2011
The conviction of hedge fund manager Raj Rajaratnam is likely to spur the use of wire taps by prosecutors aiming to halt abusive trading, lawyers say.
"You can't just say 'a conversation was taken out of context' when you have a recorded phone call," says
Philip Hilder, a former federal prosecutor. "It is one of the most powerful tools a prosecutor has and to utilize them in a white-collar case like this one is devastating for the defense."
---
Philip Hilder is interviewed on KIAH regarding the Clements case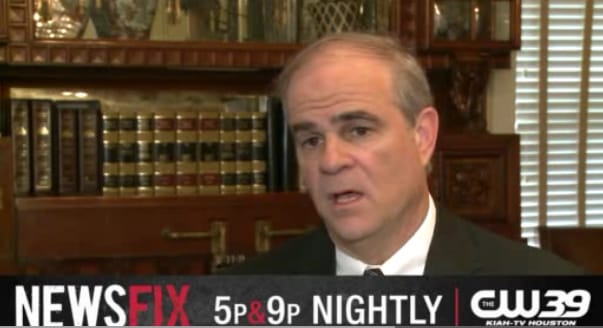 ---
Hearing in Clemens case today
Houston Chronicle
Jose De Jesus Ortiz
April 20, 2011
"I think one of the big issues is Mr. Clemens had subpoenaed documents from Congress that were prepared in their internal investigation into performance-enhancement drugs in baseball," said former federal prosecutor
Philip Hilder.
---
Dismissal in State Court
April 10, 2011
Firm obtained Government dismissal for a clients accused of theft. The case was heard before State court.
---
Dismissal of Federal Indictment
March 31, 2011
Firm obtained a Government dismissal of a federal indictment against a client dentist charged in a Medicaid anti-kickback scheme. The case was being prosecuted by the U.S. Attorney's Office for the Southern District of Texas.
---
Shortage forces Texas to switch execution drug
Dallas News
March 16, 2011
Houston defense lawyer
Phillip H. Hilder derided the pentobarbital choice and said that Texas prison officials needed to be more "transparent" in making the decision.
Hilder predicted that the move would ultimately wind up in the courts.
"The fact that it has been used and individuals executed doesn't mean that it's humane,"
Hilder said. "It may mean that it's effective, but not humane. Electrocution is effective but has been proven to not be humane. You have to dig deeper."
---
In Praise of Whistleblowers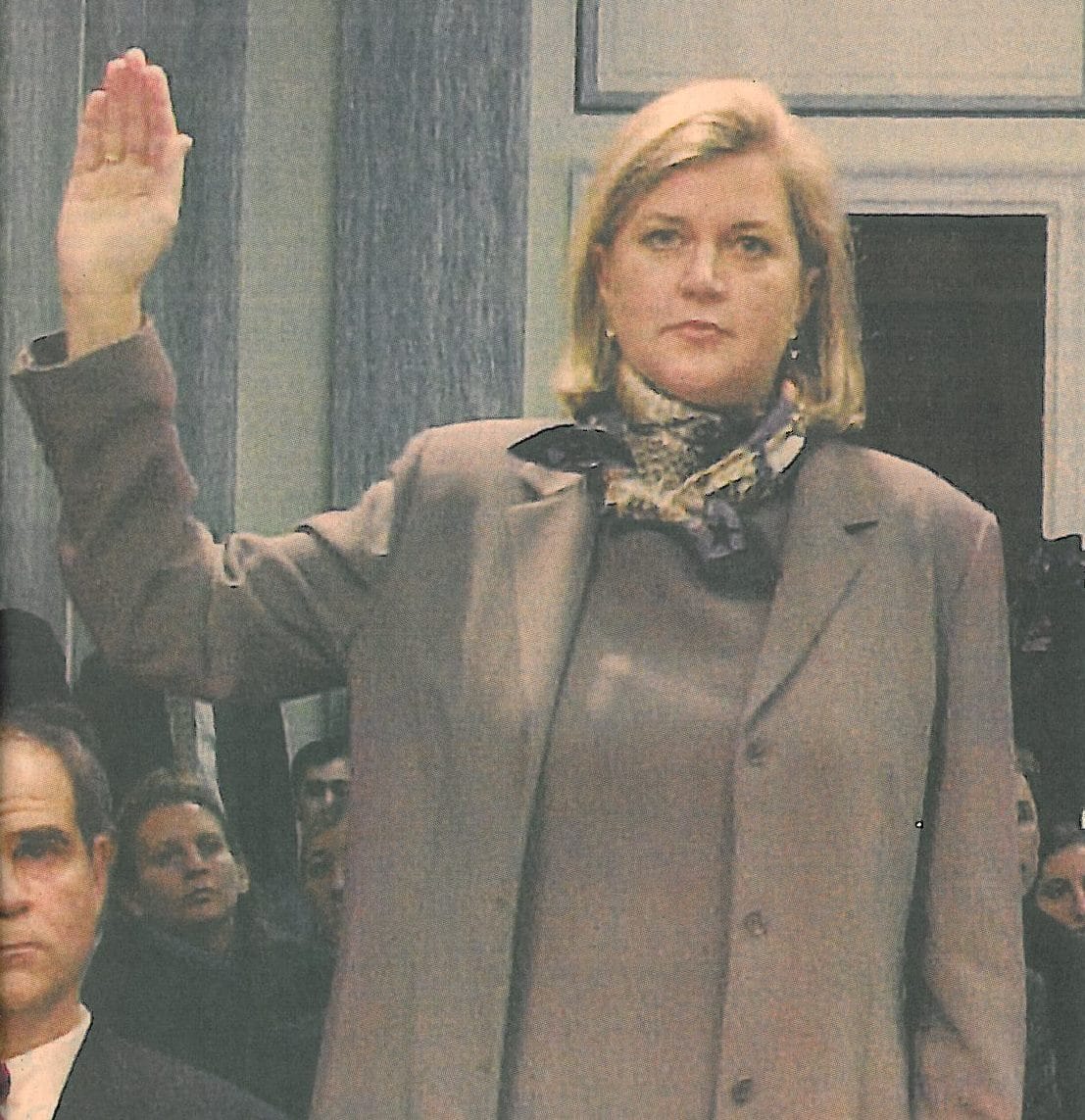 The Financial Times ran a column about the importance of the role whistleblowers play in corporate culture. The author writes It takes brave individuals to act as whistleblowers and should be thanked for helping to create an environment that values an ethical, sustainable and profitable approach to management" The article features Mrs. Sherron Watkins, the Enron Whistle blower and client of
Philip H. Hilder.
Click for Financial Times Article
---
21st Annual National Institute on Healthcare Fraud Program
Philip H. Hilder will be a part of the panel "Trail Practice Demonstration" at the 21st Annual National Institute on Healthcare Fraud Program being held in Miami, Florida on May 11-13, 2011.
TRIAL PRACTICE DEMONSTRATION –
U.S. v. Fallah, et al (S.D. Texas)
This case involved ambulance transportation of dialysis patients to regularly scheduled non-emergency dialysis treatments. The indictment charged the defendants with false and fraudulent claims for medically unnecessary ambulance transports, kickbacks to ambulance transportation companies, and money laundering. This jury trial involved significant issues in the application of rules for reimbursement and ambiguity of the regulations. The case also included issues of proper jury instruction, and damages in connection with the false claims, kickbacks to the ambulance companies and to the patients.
---
Philip H. Hilder interviewed on KIAH News on the Jessica Tata Case
March 1, 2011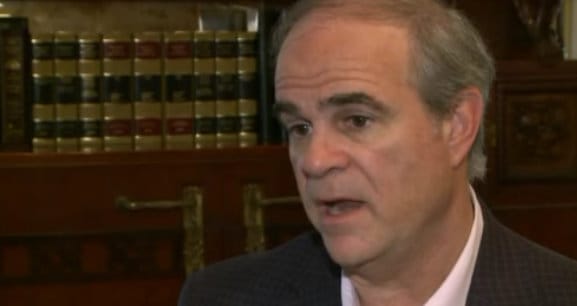 Click Here for video and full story
---
Joint FBA/ABA luncheon
On February 17, 2011,
Philip Hilder, Chair of the Federal Bar Association, Criminal Section (So. TX Chapter), and the ABA White Collar Crime Subcommittee, Criminal Justice Section, Regional Co-Chair, introduced Rose Romero, the Regional Director of the Fort Worth Office of the U.S. Securities and Exchange Commission, at the joint FBA/ABA luncheon. Ms. Romero spoke on the current trends and enforcement initiatives of the S.E.C.
---
Philip H. Hilder interviewed on KIAH News on the Jeffery Stern Case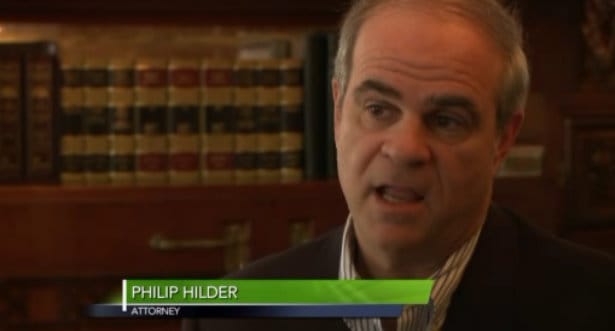 February 1, 2011
Philip Hilder was asked to comment on the Jeffery Sterns case by KIAH Chanel 39 News.
Attorneys busy in Clemens case
Saturday, January 22, 2011, Houston Chronicle sought legal opinion for a story dealing with Astros pitcher Roger Clemens who is under indictment. The paper cited legal experts contacted by the Chronicle. The Chronicle asked
Philip Hilder the merits. "It's not necessarily a baseless motion by the government," said local attorney,
Philip Hilder. "It's got to be heard by the court to determine if there's a conflict and if so the extent and if it can be cured by bringing in a second lawyer to handle the examination of Mr. Pettitte.
Click for Houston Chronicle Story
---
Bribery, Business & Soccer Tickets: UK Law Puts Businesses on Defense
eatsoccer.blogspot.com
Who knew that tickets to a Arsenal match could land a U.S. business in hot water, and possibly have an executive facing up to 10 years in the slammer?
These are questions that attorneys, such as
Philip Hilder, a white-collar criminal defense attorney at Hilder & Associates in Houston, are trying quickly understand the answers to for their clients.
---
Philip Hilder to speak at the American Industrial Hygiene Association Gulf Coast Section
Meeting. 5:30-8 p.m.
, Brady's Landing,8505 Cypress.
Speaker: Philip Hilder, former attorney-in-charge of the U.S. Justice Department's Organized Crime Strike Force in Houston.
Topic: Criminal Prosecution for a Safety Violation Is No Accident.
Cost: $10-$25.
Information: Gerry Luther, 281-356-6038, ext. 238.
---
Philip Hilder was interviewed by Dallas Talk Radio, KRLD
January 10, 2011 radio interview – Tom DeLay, the former House Majority Leader, was sentenced on January 10, 2011, to 3 years for conspiracy to commit money laundering.
Philip Hilder, was interviewed by Dallas Talk Radio, KRLD about the sentencing and likely appeal.