HISD trustee got cut of contracts awarded to associate, records show
November 4, 2012
Ericka Mellon
HISD trustee Larry Marshall voted repeatedly to award taxpayer-funded contracts to companies that hired his longtime business associate – who gave him a cut of her earnings, according to court records, deposition testimony and interviews.
"Being a public servant has certain duties and responsibilities," said Philip Hilder, a former federal prosecutor and white-collar criminal defense attorney. "Simply put, as a public servant you can't take money or something of value directly or indirectly for a promise to do something. If you do, that would constitute bribery. Even if there's not a quid pro quo, it could still be viewed as an illegal gratuity."
---
Firm Luncheon
October 19, 2012
The Firm hosted a luncheon for four current and former Congressman. Pictured from left, Nick Lampson (Fr. D-TX); Steve Israel (D-NY); Al Green (D-TX); and Henry Cuellar (D-TX).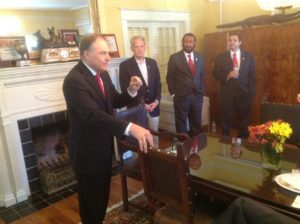 ---
Appeals Court Throws Out Stay of Execution in Texas Case
Wall Street Journal
October 10, 2012
Chad Bray
A federal appeals court has thrown out the stay of execution of a Texas inmate who claimed he was mentally retarded and incompetent to be put to death.
Jonathan Marcus Green was convicted in July 2002 of capital murder in the death of a 12-year-old girl in Texas. A Texas appeals court upheld his sentence and a state court found him in 2010 to be competent to be put to death despite his claims of being mentally retarded.
Earlier this month, a federal district court in Texas halted his execution, finding the state court violated his due process rights in part by preventing him from calling mental health professionals from the Texas prisons to testify about records submitted in the competency hearing.
The U.S. Court of Appeals for the Fifth Circuit disagreed in an order issued Tuesday, saying Mr. Green testified at the hearing, was provided counsel, was able to call his own expert witness and submitted more than 200 pages of medical records.
Philip Hilder, Mr. Green's lawyer, has asked the U.S. Supreme Court to issue a stay of his execution.
"The Court of Appeals has clearly overextended its authority and jurisdiction by treating the district court's decision to stay the execution as a decision on the merits," Mr. Hilder said in court papers.
Mr. Hilder said the appeals court "illegitimately reclassified" the issue before it and "erroneously treated" the district court order as a final disposition in his case.
"The distortion of proper procedures resulted in an incoherent order that underscored the need for a stay, so that Mr. Green's claim can be considered through established federal habeas corpus proceedings."
---
Texas man gets stay 2 days before execution
Nancy Flake
Houston Community Papers
October 9, 2012
Two days before his scheduled execution, a Montgomery man on Texas' Death Row for the 2000 abduction, rape and strangulation murder of a 12-year-old Dobbin girl received a stay because he wasn't given due process to prove he is mentally incompetent for execution, a federal judge ruled Monday.
Judge Nancy Atlas, in the Southern District of Texas, ruled that Jonathan Marcus Green, 44, who was convicted in 2002 for the murder of Christina LeAnn Neal, did not receive a fair opportunity to demonstrate that he is incompetent, "and thus the State of Texas denied him due process."
Green is schizophrenic and "is not malingering," said his appellate attorney, James Rytting.
"He is mentally ill … and he's only gotten worse after being stuck in administrative segregation," Rytting said
---
Stay of Execution Granted
October 8, 2012
Stay of Execution granted for Firm client, Jonathan Marcus Green. The Federal Court concluded that Mr. Green was denied due process by using incorrect legal standards. The Court went on that the State Court engaged in an unreasonable application and that Mr. Green is entitled to a stay of execution. James Rytting of t he Firm is the lead attorney on the case.
Click for Houston Chronicle article
---
Stay Sought for young girl's killer
Houston Chronicle
Mike Tolson
October 8, 2012
A mentally ill inmate is set to die Wednesday for the abduction, rape and murder of a Montgomery County girl, whose body was buried in his yard. Jonathan Green came close to execution in 2010 but received a last minute stay so that appeals courts could evaluate his mental condition and determine whether he is competent to be executed. Green suffers from schizophrenia and his attorney claims her is borderline mentally retarded. Green's attorney, James Rytting, is hopeful of getting another stay. He claims his client has deteriorated further over the past two years.
---
Philip Hilder chosen for the cover of the Super Lawyers section of Texas Super Lawyers 2012
Paul Sweeney
The Whistle Blowers Advocate
Texas Super Lawyers 2012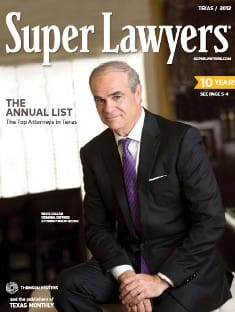 ---
Man's honest act after wild Los Angeles bank robbery
Jason Sickles
The Lookout, A Yahoo News Blog

September 13, 2012
Scores of Los Angeles residents scrambled Wednesday to stuff their pockets with cash being tossed into the streets by bank robbers on the run. But out of the chaos emerged Sal Reyes.
"You have to give it back," Reyes told KNBC-TV.
At first, Reyes said, he didn't know what was going on as the suspects' getaway car and police cruisers zipped through his neighborhood.
"There were mothers leaving their kids and they were just grabbing the money, and there was just money in the air," he said. "It was just everywhere."
Reyes scooped up bills, too, but took an undisclosed amount to a police station once he learned it had been stolen from a Bank of America. "You can't just go spend money that's not yours," he told the TV station. Many others didn't adopt his golden rule.
"The money was not heaven-sent," said Philip Hilder, a veteran Texas attorney. "The fact that they didn't originally take the money is of no consequence if they knew the money had been stolen. Anybody who keeps the cash is going to be buying themselves a lot of unwanted trouble."
Police say they are reviewing video from news coverage to help them locate the greedy grabbers.
---
Deputy constables allege retaliation following Abercia indictment
Houston Chronicle

Anita Hassan
August 23, 2012
Two Harris County Precinct 1 deputies are suing Constable Kenneth Berry, accusing him of retaliation and harassment following a report the pair made to federal authorities that to led the indictment of former constable Jack Abercia.
According to the lawsuit filed Wednesday against Berry and Harris County, Precinct 1 Deputy Constable Mark Harrison and Sgt. Kevin Williams say they were both reassigned, demoted and harassed because they told the FBI about information implicating Abercia and two senior Precinct 1 officers in a bribery scheme and unauthorized use of a computer at the office.
"It was very obvious that there was a pattern and practice of retaliation against these two officers in Constable Berry's office for providing information to federal (law) enforcement authorities," said their attorney, Philip Hilder, who once represented Enron whistle blower Sherron Watkins.
---
Whistleblowing Precinct One Constables Allege Retaliation in Aftermath of Jack Abercia Indictment
Houston Press
John Nova Lomax
August 23, 2012
Two Precinct One Harris County Constables have filed suit against Harris County and their immediate supervisor, Constable Kenneth Berry, successor to indicted former chief Jack Abercia.
In both of the suits filed yesterday, plaintiffs Sergeant Kevin Williams (formerly of the Civil Division) and Mark Harrison (formerly an Internal Affairs investigator) claim that they have been demoted, reassigned and otherwise harassed after they went to the FBI with information implicating Abercia and two staffers in a bribery/unauthorized use of police information scheme.
Lead counsel for both plaintiffs is Phillip Hilder, best-known for his representation of perhaps the city's most renowned whistleblower ever — Sherron Watkins of Enron fame. Both suits allege unlawful discrimination and retaliation and seek injunctive and equitable relief, job reinstatement, future pecuniary losses, damages for emotional pain and suffering, actual and exemplary damages, attorneys' fees and court costs.
---
Clemens Acquittal Betrays DOJ's Leadership Woes, Attys Say
law360
June 20, 2012
Ian Thomas
With Monday's acquittal of Roger Clemens, the U.S. Department of Justice suffered another glaring defeat in a high-profile and highly questioned case against a celebrity, exposing the department's lack of leadership when it comes to picking prosecutions, experts say.
After deliberating for less than 11 hours, a federal jury found the former Major League Baseball pitcher not guilty of lying to Congress about his alleged use of performance-enhancing drugs. The verdict came less than a week after the DOJ dropped its controversial prosecution of two-time presidential candidate John Edwards for campaign finance violations tied to an affair he had during his 2008 run for the White House.
The Clemens and Edwards cases were both doubted from their beginnings and now stand out as two black eyes for a Justice Department already reeling from its botched prosecution of the late Sen. Ted Stevens and its mishandling of the infamous "Fast and Furious" gun-walking investigation, attorneys said.
"They showed very poor judgment," said Philip H. Hilder, a Houston-based defense attorney and former Justice Department prosecutor. "DOJ needs to properly evaluate these cases before they bring them, especially when dealing with a high-profile figure like a John Edwards, like a Clemens. These trials have a huge toll – not just financially, but emotionally."
---
Father won't face charges for killing daughter's attacker
AP
Paul J. Weber and Ramit Plushnick-Masti
statesman.com
A young father who beat to death with his fists a man molesting his 5-year-old daughter won't be charged, authorities said Tuesday as they released a dramatic 911 tape of the dad frantically pleading for help before the hired ranch helper died.
A Lavaca County grand jury Tuesday declined to indict the 23-year-old father in the death of Jesus Mora Flores, 47. Prosecutors said the grand jury reached the same conclusion as police after reviewing the evidence: The father was allowed to use deadly force to protect his daughter.
Philip Hilder, a Houston criminal defense lawyer and former federal prosecutor, said he would have been surprised if the grand jury had indicted the father. Hilder said Texas law provides several justifications for the use of deadly force, including if someone is committing a sexual assault.
"The grand jury was not about to indict this father for protecting his daughter," he said.
---
Twisted murder-for-hire case takes another turn
click2houston
June 12, 2012
Phil Archer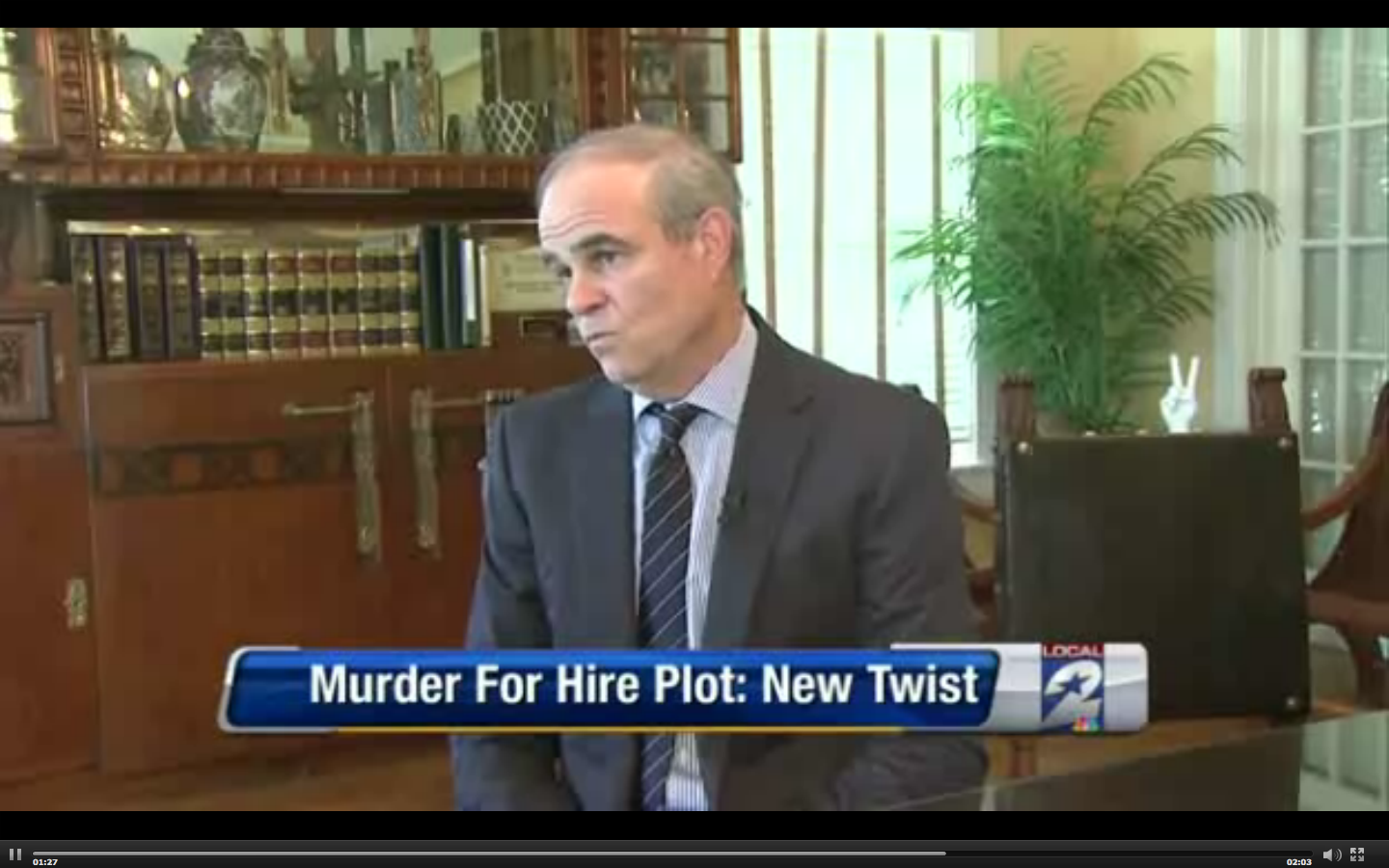 A twisted murder-for-hire case has taken yet another turn.
Michelle Gaiser has admitted to hiring hit-men to kill Yvonne Stern, the wife of Jeffery Stern. Gaiser and Jeffrey Stern had an affair.
Three attempts were made on Yvonne Stern's life. She was shot in the abdomen during one of those attempts in May 2010.
Gaiser has taken a plea deal for her solicitation of capital murder charge. Part of that plea includes testifying against Jeffrey Stern, who has also been accused of solicitation of capital murder. He is scheduled to go to trial on the charge on July 27.
Jeffrey Stern has denied any involvement in the plot. Yvonne Stern is standing by him.
According to Paul Nugent, Jeffrey Stern's defense attorney, Gaiser does want to testify. Nugent said Gaiser wrote a note to another jail inmate, offering $20,000 for the death of Jeffrey Stern.
Nugent read part of alleged note at a news conference on the couple's front lawn on Tuesday.
"It needs to look like he got robbed. If you plan on making him disappear, he cannot be found because they'll think it's a hit," Nugent said the note read. "Whatever you do, it must not look like a hit. It's going to be accidental death. Obviously, even a close-range shot didn't get rid of the wife."Some attorneys said that the letter is a game-changer in Jeffrey Stern's case.
"The fact the prosecution witness wrote this doesn't necessarily mean this case is dead in the water," said Phil Hilder, another Houston attorney. "The prosecution and the judge are going to have to judge the credibility of this communication.
---
Husband, wife face $18 million bond each for allegedly stealing money from his employer
abc news
June 12, 2012
The grand total is staggering — more than $9 million gone from a local company, and police are trying to find the former employee accused of ripping them off.
Perhaps just as shocking as the large amount of money missing is how prosecutors say much of it was spent on comic books and collectibles.
Anthony Chiofalo used to work at Tadano America, a company with offices in Houston and manufactures and sells hydraulic cranes worldwide, until he was fired for allegedly stealing millions. Now he's on the run and prosecutors want him caught.
Since January 2009, Chiofalo worked as the head of legal affairs at Tadano America. It was his job to contract with outside firms for legal services. But according to court documents, he allegedly set up a bogus law firm, "Maio and Cardenas.
Tadano America says he made a series of checks payable from TAC to that fictitious law firm for an amount of $9,329,546.81 in total, and that the money was deposited into an Amegy Bank account owned by Chiofalo.
Investigators say he was paid for work that never was done.
Tadano America is represented by Hilder & Associates, P.C.
---
Spring company accuses former board member of stealing $8 million
Glenna Herald
Ultimate Spring
June 12, 2012
A Spring company is suing over claims one of its board members schemed to steal $8 million from it.
Tadano America in Spring filed a lawsuit on Friday, June 8 in the Harris County District Court against Anthony Chiofalo, citing Texas Theft Liability Act, conversion, fraud and breach of fiduciary duty.
Tadano America says in May, an investigation into excessive legal bills revealed that its general counsel and board member Chiofalo allegedly created fictitious law firms to raid company coffers. He used company funds to pay these nonexistent law firms more than $8 million, according to the brief.
The suit also alleges Chiofalo failed to inform his employer that New York suspended his attorney's license in 2010.
Tadano is seeking injunctive relief, attorney's fees, damages and court costs. It is being represented in the case by Houston attorney Philip Hilder.
---
Lawyer charged with theft in fraudulent billing case
Houston Chronicle
Mike Tolson
June 12, 2012
Approaching 50 and fleeing a messy divorce that had gotten him in hot water with the New York bar association, Anthony Chiofalo decided to start anew in Texas. He got an in-house job with a Japanese manufacturer in Houston at an annual salary of $110,000 – not great money for a lawyer but enough for a comfortable life in a place where the cost of living was much less.
But Chiofalo apparently did not want a modest home in the suburbs. He and his new wife, Susan, decided something swankier was in order. And to pay for it he decided to supplement his salary with an alleged scheme to rip off his employer to the tune of $9 million. Or $9,329,546, to be exact.
That is the sum that local prosecutors claim Chiofalo got the Tadano America Corporation to pay fictitious law firms for work that was never done. The bogus firms amounted to little more than some stationery, a phony spreadsheet, and a rented mail box. And the bank account where all the checks ended up was one that only he controlled, according to charging documents filed by the Harris County District Attorney's Office.
Authorities are looking for Anthony Chiofalo, now 51, after charging him with felony theft last week. Susan Chiofalo, 50, was arrested on similar charges and released from Harris County Jail after posting bail on $100,000 bond. She could not be reached for comment on Monday.
Their dream home, the one they were renovating at Tadano's expense, is now part of a legal recovery action by the company, along with almost $2 million worth of artwork and collectables that might have been used to decorate the home.
"We're cautiously optimistic that we will be able to recover a fair amount of the assets," said Phil Hilder, a lawyer hired by Tadano to investigate Chiofalo and get as much money back as possible. "We have moved quickly."
As did Chiofalo, who according to a civil lawsuit filed Friday, first tested his scheme in November 2010. That's when he got Tadano to pay $25,000 as a retainer with a law firm he had invented. Using phony invoices from that and other fake firms, Chiofalo repeatedly upped the ante with a series of bills ranging from $20,000 to $1.3 million.
'He was trusted'
Chiofalo was hired by Tadano in 2009 as its general counsel, and part of his job was to oversee litigation involving the company. But the lawsuits that supposedly generated the huge legal bills either did not exist or were exaggerated as part of his scheme, Hilder said.
Had he not been greedy, Chiofalo might have been able to perpetuate the scheme for much longer.
"He was the company's chief legal officer and he was trusted," Hilder said. "The company relied on his representation regarding the litigation. Then they began to question the extent of the litigation. It had not been so extensive in the past. And that raised a red flag."
---
Stanford seeks new trial based on publicity, prep time
Houston Chronicle
Terri Langford
March 21, 2012
A lack of sufficient prep time, excessive pre-trial publicity – and even Twitter – all contributed to an unfair guilty verdict against R. Allen Stanford, attorneys for the convicted con man claim in their request for a new trial filed this week.
"The Houston community was saturated with publicity prejudicial to Stanford," defense attorney Ali Fazel wrote in his 71-page request to U.S. District Judge David Hittner, the trial judge in the fraud case.
Stanford, who turns 62 on Saturday, was convicted March 6 on 13 of 14 counts that accused him of orchestrating a $7 billion investment fraud through his bank in the Caribbean nation of Antigua.
Sentencing is set for June 14, and Stanford could spend the rest of his life in prison.
The motion alleges that defense lawyers did not have adequate time to prepare for the trial after Stanford returned from nine months in a North Carolina prison hospital, where he was treated for addiction to medications prescribed when he was injured in a jailhouse fight.
Houston attorney Philip Hilder said for such a motion to be successful, Stanford's defense team would have to prove that the information actually made it to a juror.
"There's no difference between a reporter tweeting or in the old days going to a pay phone and transmitting the information," Hilder said. "It's just more real time and keeping up with realities of today's fast moving electronic age."
---
Jurors: Evidence Overwhelming in Stanford Trial
Juan A. Lozano
AP
March 10, 2012
Jurors who convicted the financier on fraud-related charges for bilking investors out of more than $7 billion after a seven-week trial took to heart the words of prosecutor Gregg Costa. During his closing arguments he said Stanford "wasn't a rich person. He was a thief."
Defense attorneys portrayed Stanford as a visionary entrepreneur who made money for investors and conducted legitimate business deals. They accused the prosecution's star witness – James M. Davis, the former chief financial officer for Stanford's various companies – of being behind the fraud and tried to discredit him by calling him a liar and tax cheat.
Jurors David Wright and alternate juror Bruce Forrest said they found Davis credible and his testimony compelling.
"Jim Davis was most compelling. We believed him," said Forrest, 47, who runs an optical business.
Over more than four days of testimony, Davis detailed how he and Stanford faked the bank's profits and fabricated documents to hide the fraud.
Philip Hilder, a Houston criminal defense attorney and former federal prosecutor who followed the trial, said Davis' testimony was key to Stanford's conviction.
"His testimony was a killer," he said.
---
Allen Stanford jury says unable to reach verdict
Reuters, The Economic Times
March 6, 2012
The jury weighing evidence against Allen Stanford said on Monday it was unable to reach a verdict in the trial of the former Texas financier.
Stanford, on trial in federal court in Houston, is accused of running a $7.1 billion Ponzi scheme.
After the jurors sent a note saying they were unable to reach a verdict, U.S. District Judge David Hittner called them into the courtroom and instructed them to keep deliberating, saying the trial had been costly in time and money. "I'm going to ask that you continue your deliberations," he said.
The jury started deliberating last Wednesday and has worked for more than 20 hours.
It was not clear whether jurors had failed to reach a verdict on any of the 14 counts against Stanford, or whether they had failed to do so on just some of the counts. Failure to agree on all counts could result in a mistrial.
Philip Hilder, a former federal prosecutor who has been following the trial, said it was not unusual for a jury to be deadlocked initially in a complex trial such as this one.
If they remain deadlocked, it could turn into a hung jury, but the more common outcome is that the jury comes up with a unanimous decision, said Hilder, a white-collar defense attorney in Houston.
---
Gen Re, AIG case gets a retrial
Bill Kenealy
Business Insurance
March 4, 2012
Former executives of General Reinsurance Corp. and American International Group Inc., whose convictions in a sham finite reinsurance deal were overturned, have a stronger hand going into a retrial scheduled for next year, experts say.
Philip Hilder, an attorney at Hilder & Associates P.C., a Houston law firm representing corporate defendants, said that while he does not expect the government to follow the same playbook as the first trial, prosecutors are limited to the evidence that was introduced in the first trial.
"The government case can't vary too much," Mr. Hilder said. "A retrial is a distinct advantage to the defense because they've already seen the weaknesses in the (prosecution's) case."
Another potential disadvantage for the prosecution is that defense attorneys can exploit the fading memories of witnesses to undermine their credibility, which Mr. Hilder said makes the outcome of a retrial uncertain.
---
Condemned killer Swearingen back in court
Renee C. Lee
Houston Chronicle
February 28, 2012
Firm attorney and lead counsel James Rytting for condemned Larry Swearingen is back in court in a hearing granted by the Texas Court of Criminal Appeals after Mr. Swearingen received his third stay of execution. The days hearing dealt with expert entomologists.
---
High Court Won't Hear Inmate's Evidence of Innocence
The U.S. Supreme Court today refused to consider stopping the execution of Larry Ray Swearingen, a firm client on Texas death row based on newly uncovered evidence proving his innocence.
James Rytting of Hilder & Associates, had asked the high court to decide for the first time whether executing an innocent person constitutes cruel and unusual punishment under the Constitution.
In a prior ruling Judge Jacques Wiener of the 5th U.S. Circuit Court of Appeals wrote that Swearingen's appeal "might be the very case" for the Supreme Court "to recognize actual innocence as a ground for federal habeas relief."
Today also started the beginning of a hearing ordered by the Texas Court of Criminal Appeals when it stayed Mr. Swearingen's execution last August. The hearing will deal with forensic evidence.
---
Experts: Texas tycoon's testimony not worth risk
insurancenews.net
February 16, 2012
Juan A.Lozano, A.P.
If Texas tycoon R. Allen Stanford decides to testify in his ongoing fraud trial, it could be the most important sales pitch he's ever had to make.
With his freedom on the line, some legal experts question if the gamble of testifying is worth the risk that the larger-than-life businessman might come across as arrogant due to a jet-setting lifestyle that wouldn't connect with jurors. Of even greater concern is that he wouldn't be able to give a plausible explanation for what happened to the billions in investor funds he's accused of taking.
"I think it would be a horrible idea for him to testify. I think prosecutors are licking their chops hoping he would be foolish enough to testify," said
Andrew Stoltmann, a Chicago-based attorney who specializes in investment fraud and has been following the trial. "Jurors want to hear from the defendant. But the downside is the prosecution gets to use him as a pinata for a couple of days on the stand."
Defense attorneys had said at the start of the trial that Stanford would testify. But the defense's list of 26 potential witnesses, made public Wednesday, did not include the financier.
That doesn't necessarily mean he won't take the stand, but a gag order prevents attorneys from discussing the case.
Philip Hilder, a Houston criminal defense attorney and former federal prosecutor, said Stanford and his attorneys will have to decide if there are matters only the financier can clarify.
---
Experts: Stanford's trial not won with 1 witness
AP
Juan Lozano
February 12, 2012

From testimony about bribes, blood oaths, faked profits and secret Swiss bank accounts, the ongoing fraud trial of jailed and former jet setting Texas tycoon R. Allen Stanford has had its share of drama.
And many of the details about the alleged fraud that prosecutors say bilked investors out of more than $7 billion in one of the largest Ponzi schemes in U.S. history were provided by Stanford's former top money man and the prosecution's star witness, James M. Davis, over more than four days of testimony.
But Stanford's attorneys did their best to tear down Davis and portray him to jurors as a liar, adulterer, tax cheat and the true mastermind of the scheme who has pleaded guilty to three fraud and conspiracy charges as part of a plea deal with prosecutors and will say anything to avoid a lengthy prison term.
While legal experts say Davis' credibility will be important with jurors during their deliberations, a fraud case as complex as this one isn't won or lost with one witness and Stanford's fate remains unclear.
"A trial is very much like a mosaic and the pieces in their entirety show the picture," said Philip Hilder, a Houston criminal defense attorney and former federal prosecutor who's followed the trial. "Mr. Davis' testimony, while key, is not the whole case."
---
Defense has tough decision: Should Stanford testify?
Houston Chronicle
Purva Patel
February 6, 2012
As the fraud trial of R. Allen Stanford progresses in Houston federal court, defense attorneys will have to make a critical decision: whether to put their client on the stand.
His lawyers told the jury as the trial began that he plans to testify, but that's not a commitment.
"It's always a calculated risk," said Philip Hilder, a Houston defense lawyer and former federal prosecutor who is not involved in the Stanford case.
---
Your Conroe News
January 15, 2012
Montgomery County District attorney, Brett Ligon, is working to clear the execution of Jonathan Green who sits on Death Row. Less than four hours before he was set to die by lethal injection on June 30, 2010, Green, a schizophrenic, was granted a stay of execution by the Texas Court of Criminal Appeals when questions were raised about his mental competence to be put to death. James Rytting of Hilder & Associates represents Mr. Green.
---
Steffy: State of Stanford's defense may leave questions
Houston Chronicle
Loren Steffy
January 12, 2012
After three years, fallen billionaire R. Allen Stanford is set to go to trial in 10 days on charges he ran a $7 billion Ponzi scheme. Yet with the trial looming, his legal defense is in a shambles.
On Wednesday, his lawyers asked to withdraw from the case. A week before that, his expert witnesses quit because they hadn't been paid in three months.
Stanford's assets were frozen after his 2009 arrest, leaving him to rely on his company's insurance policy to pay for his defense. Stanford, who was denied bail and has remained in prison for almost three years, squandered most of the money on a revolving door of legal talent, going through 10 lawyers before the insurance company refused to pay for more.
Phillip Hilder, a Houston defense attorney who isn't involved in the case, said, "The defense is put in a no-win situation."
Hittner already told Stanford he can't have any more lawyers, so the judge is probably going to order the current legal team to see the case through.
Stanford has become the anti-Skilling. Accused of complex financial crimes, his shoestring defense has little in common with the Enron executive's gold-plated and relentless legal campaign. Jeff Skilling still fights the charges against him, five years and tens of millions of dollars after his conviction.
"In Enron, you had a cohesive defense, you had clients who were not incarcerated, you had clients who were of a sound mind, and you had financial resources," said Hilder, who represented Enron whistle-blower Sherron Watkins, a government witness in Skilling's trial. "All of that is lacking in the Stanford case. It's just a comedy of missteps."
---
Your Conroe News
Howard Roden
January 8, 2012
Attorneys involved in the Feb. 27 hearing of convicted killer Larry Ray Swearingen will meet Monday morning to discuss details of his return to court.
The meeting is scheduled for 9 a.m. Monday in the 9th state District Court of Judge Fred Edwards.
Swearingen, 40, was sentenced to death in 2000 for the abduction and murder of 19-year-old college student Melissa Trotter. Her body was found Jan. 2, 1999, in the Sam Houston National Forest, 25 days after she was last seen leaving the Lone Star College-Montgomery campus off Texas 242.
In October, Edwards appointed Conroe attorney Steve Jackson to represent Swearingen during next month's hearing.
Jackson said the other two members of Swearingen's legal team, James Rytting and Philip Hilder, are excellent tort attorneys, and Jackson has spent the past few months getting up to speed on the case.
"What I've learned is that their evidence makes it impossible for Mr. Swearingen to have committed the crime when the prosecution said it did," Jackson said.
---
Stanford asks judge to delay trial after experts resign
Houston Chronicle
Purva Patel
January 2, 2012
Expert witnesses working for R. Allen Stanford's defense have resigned because they haven't been paid, according to a request made by the former billionaire's lawyers to postpone his trial.
Last week, U.S. District Judge David Hittner rejected a previous request for a 90-day continuance in the trial of Stanford, who is accused of swindling investors out of $7 billion. The latest request asks the judge to reconsider and notes Stanford – who was only recently deemed competent to assist his attorneys – needs time to go through the evidence in the case in order to assist in his defense.
So far, all expenses submitted to the district court have been within the budget previously submitted to the court, but experts haven't been paid for four months, according to a recent motion filed by Stanford's government- appointed lawyers.
While the district court usually handles approval of payments for indigent defendants like Stanford, the circuit court may step in when a case's budget looks like it will exceed the allocated funds, said Philip Hilder, a Houston attorney and former federal prosecutor.
There is usually an arbitrary lag time of weeks or months before payments are made after being submitted, but in such a time-consuming case, experts aren't necessarily going to "take it on good faith that they're going to get paid," Hilder said.
"The defense is in a difficult position because this particular case is expensive and yet they have a duty and obligation to zealously defend Mr. Stanford," Hilder said. "Unless the defense can properly and adequately utilize expert testimony, Mr. Stanford may have a claim for ineffective counsel."