Federal Bar Association Southern District of Texas March 2015 CLE Luncheon
March 26, 2015
Philip Hilder discussed "Observations on the Work of the Military Commissions at Guantanamo Bay" at the Federal Bar Association Southern District of Texas March 2015 CLE Luncheon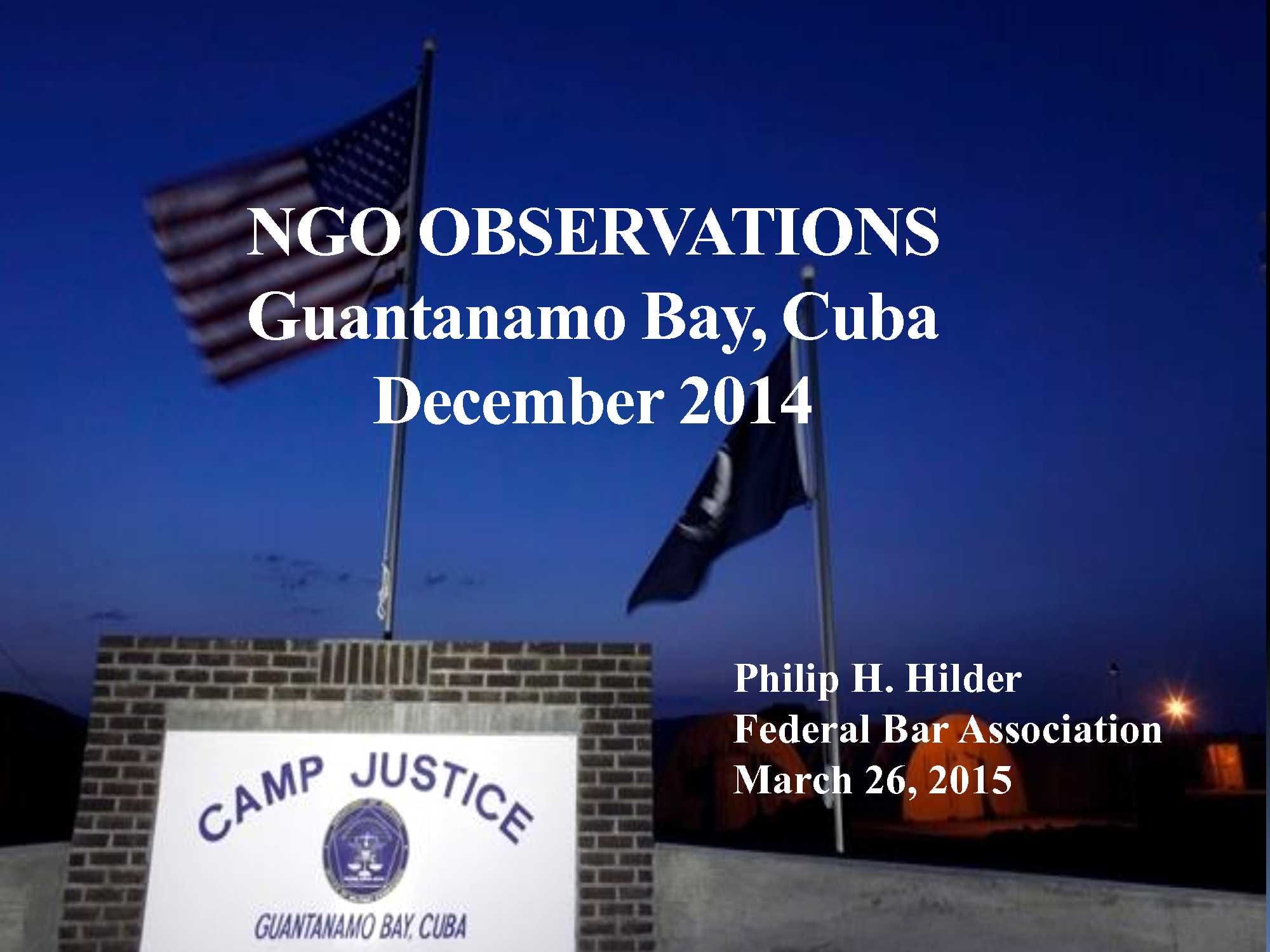 ---
Court upholds ruling on 'seaman's manslaughter' in BP case
San Antonio Express
March 11, 2015
AP
A federal judge correctly dropped 11 "seaman's manslaughter" charges against two BP supervisors in the deaths of workers killed when the Deepwater Horizon exploded in the Gulf of Mexico, a federal appeals court ruled Wednesday.
A three-judge panel of the 5th U.S. Circuit Court of Appeals said the federal law does not apply to Robert Kaluza and Donald Vidrine, the top BP employees on the rig when it blew wild in 2010 and started the nation's worst offshore oil spill.
The decision could open the way for their trial on 11 counts of involuntary manslaughter and one of violating the Clean Water Act, if federal attorneys don't ask for a rehearing or go to the U.S. Supreme Court.
Philip Hilder, a Houston-based defense attorney for people accused of white-collar crimes who wrote in 2011 that there had been a resurgence of cases invoking the seaman's manslaughter charge, said he has not noted a continued increase since the case against Vidrine and Kaluza was filed.
"It's certainly in the prosecutor's arsenal. But it's not widely utilized," he said.
He described the panel's ruling as a common-sense analysis.
---
St. Patrick's spirit in H-Town: Traditions and celebrations abound on day when everyone's Irish
Culture Map Houston
March 3, 2015
How do Houstonian Irish Americans celebrate their Irish heritage on St. Patrick's Day? We asked three notable locals with Irish ties to fill us in on how they uphold Irish traditions, and where they'll be celebrating the patron saint come March 17.
"Although I'm not Irish, myself, I've always celebrated St Patrick's Day. I grew up in Chicago where they turn the river green," says Philip Hilder, a Houston lawyer and former federal prosecutor.
Now married with four children, Hilder met his wife in her hometown of Ballymote, Ireland (their children, along with Hilder, have dual citizenship). Every summer since their first child was born 16 years ago, the Hilders travel to Ireland to keep cultural ties alive (and escape the Houston heat), ensuring that the kids grow up with a good sense of understanding of the Irish culture.

Also an annual occasion, at home in Houston the family heads to their favorite Irish pub every year on St. Patrick's Day.
"It's a tradition," Hilder says. "It's family-friendly and they have activities the kids enjoy such as Irish dancing and music. Since the kids spend every summer in Ireland, hanging out there reminds them that summer break is around the corner."
---
Attorneys React To High Court's Sarbanes-Oxley 'Fish' Ruling
Law 360
February 25, 2015
"The high court ruled that Section 1519 targets not all manner of evidence, but records, documents and tangible objects used to preserve them, e.g. computers, servers and other media on which information is stored. 'Tangible object' in Section1519, the Supreme Court concluded, is better read to cover only objects one can use to record or preserve information, not all objects in the physical world." – Philip Hilder Hilder & Associates, P.C.
---
S&P to Pay $1.5 Billion to Resolve Crisis-Era Litigation
February 3, 2015
Timothy W. Martin
Wall Street Journal
The Justice Department detailed efforts by Standard & Poor's Ratings Services to relax standards to win business, shedding fresh light on the firm's crisis-era behavior just as the two parties marked the end of a multiyear battle.
S&P on Tuesday agreed to pay $1.5 billion to resolve litigation alleging it knowingly issued rosy grades of risky mortgage bonds before the crisis. As part of the deal, the government backed off demands that S&P admit to violating laws, reducing the firm's exposure to future lawsuits.
Investors rely on ratings from S&P, Moody's Investors Service and Fitch Ratings when deciding whether to buy bonds. Collectively, they issue about 95% of ratings globally.
That dynamic makes punishing S&P a tough task, said Philip Hilder, a Houston-based lawyer and a former federal prosecutor. "You can't come down too terribly hard on S&P without wounding the financial system," Mr. Hilder said.
---
Rick Perry's Legal Fees: $1 Million and Counting
January 20, 2015
Breitbart Texas
Sarah Rumpf
The legal fees to defend Texas Governor Rick Perry since he was indicted by a grand jury last August for two felony charges have passed the one million dollar mark, according to the latest campaign finance report filed by his PAC, Texans for Rick Perry.
"These are high stakes; very complicated; requires a lot of research and writing. But, you know, whether these fees are justified would depend on an analyzation of the billing records," said Philip Hilder, a former federal prosecutor who now represents white-collar criminal defendants. "Because of attorney client privilege-well, we will never know."