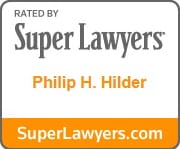 HOUSTON – Noted white-collar criminal defense attorney Philip Hilder has earned a place on The Best Lawyers in America list and the Texas Super Lawyers list, two widely respected guides to the legal industry.
Mr. Hilder, founder of Hilder & Associates, P.C., was selected for the 2016 edition of Best Lawyers for his work in commercial litigation. It is the second year he has been recognized by that publication, the nation's oldest peer-review listing. The 2015 edition of Texas Super Lawyers includes Mr. Hilder for his white-collar criminal defense work. He has been listed by that publication since it was first published in Texas in 2003.
Both Best Lawyers and Texas Super Lawyers make their selections based on lawyer nominations, independent research and evaluations by lawyers in the same practice areas. No more than 5 percent of the lawyers in Texas are chosen for Texas Super Lawyers.
Mr. Hilder has represented a variety of clients, from energy industry executives and defense contractors to elected officials. He helped his high-profile whistleblower clients prevail in financial scandals involving Enron Corp. and Countrywide Financial Corp. He also assists companies with internal investigations.
A former federal prosecutor in Houston, he is often quoted in the media for his legal expertise on issues related to high-profile criminal cases. Appointed by the mayor to the Houston Independent Police Oversight Board, he has recently spoken out for the privacy rights of individual citizens in the context of police cellphone tracking systems and police video cameras.
Hilder & Associates, P.C., provides a comprehensive range of legal services for individuals, corporate officers, businesses, and legal and financial professionals. The firm's attorneys focus on white-collar criminal defense matters and related complex civil and administrative litigation, corporate compliance programs, grand jury investigations, attorney grievance defense, qui tam claims, whistleblower representation, internal corporate investigations, trials, and related parallel administrative and civil litigation and appeals. See more at /.
For more information about Mr. Hilder's law practice contact Mary Flood at [email protected] or 800-559-4534.