Philip H. Hilder featured in one of Bloomberg's Photographs of 2010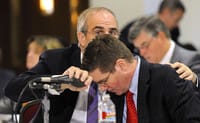 January 4, 2010 – While representing a client before a board of inquiry on the Gulf Oil Spill,
Philip Hilder was photographed providing advice to his BP client. This photo was one of the recipients of the
---
Death Penalty Evidentiary Hearing Granted by Texas Court of Criminal Appeals
On December 15, 2010,
James G. Rytting of
Hilder & Associates, P.C. was successful in obtaining an evidentiary hearing from the Texas Court of Criminal Appeals of Texas for death penalty client, Ronald Jeffrey Prible, Jr. Mr. Rytting had filed an Application for Writ of
Habeas Corpus based upon previous litigation where the federal district found that several of Mr. Prible's claims were unexhausted. The Court of Criminal Appeals has remanded the case back to the trial court so that the
habeas corpus record can be supplemented with evidence.
---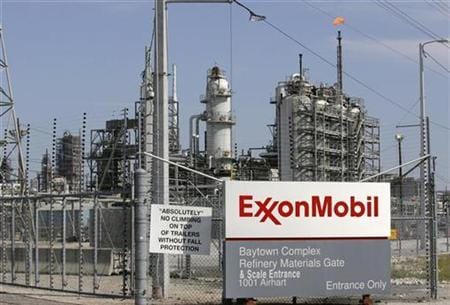 Environmentalists sue ExxonMobil over air laws
Associated Press
December 14, 2010
The largest oil refinery in the United States released more than 8 million pounds of illegal pollution in the past five years, violating the federal Clean Air Act thousands of times, according to a lawsuit filed Tuesday by environmental groups in Texas.
The lawsuit against ExxonMobil is the latest by Sierra Club and Environment Texas as part of their campaign to rein in what they call "illegal emissions" by dozens of refineries and chemical plants that operate in the Texas Gulf Coast. In recent months, the groups have reached multimillion-dollar, out-of-court settlements with Shell and Chevron Phillips after filing similar suits.
Philip H. Hilder is lead counsel for the plaintiffs in this suit.
Click for Suit
---
Sierra Club sues Exxon over Baytown refinery pollution
Erwin Seba and Jeff Roberts
Reuters Legal
December 14, 2010
The Sierra Club and Environment Texas filed a federal lawsuit against Exxon Mobil Corp for five years of excess pollution at the nation's largest refinery, the Sierra Club said on Tuesday.
The lawsuit alleges Exxon's refinery and chemical plant in Baytown, Texas, committed over 2,500 violations of the Clean Air Act between 2005 and 2010 and released over 8 million lbs of pollutants into the atmosphere, said Neil Carman, clean air director of the Sierra Club's Texas chapter
The case is Environment Texas Citizen Lobby, Inc et al v. ExxonMobil Corporation et al, U.S. District Court, Southern District of Texas, No. 4:10-cv-04969. The docket states that
Philip Hilder of Hilder & Associates is lead counsel for the plaintiffs.
---
Medicaid fraud crackdown threatens citizens' rights
Philip H. Hilder
Houston Chronicle
December 11, 2010
Constitutional protections are being hastily overlooked in our government's zeal to crack down on Medicaid fraud. But even that worthy cause doesn't merit a denigration of citizens' rights.
In the case of Medicaid fraud, the Texas Legislature has not only encouraged but required government agencies to mix civil and criminal investigations on such a regular basis that the constitutional rights of the people and businesses being investigated are being trampled routinely.
---
Clemens gets more time to prep for trial
Jose de Jesus Ortiz
December 9, 2010
Houston Chronicle
For almost two years, former Sen. George Mitchell's investigators traveled the country looking into the use of performance-enhancing drugs in baseball. Once Mitchell's report for Major League Baseball implicated former Astro Roger Clemens and several other prominent players, Congress went digging some more.
Some attorneys predict that both will ultimately have to turn over evidence once Hardin files a subpoena for the material in question.
"I think that Clemens is going to be able to get information in that there's no separation of powers in this particular case," said former federal prosecutor
Philip Hilder, who represented Enron whistle-blower Sherron Watkins in congressional hearings. "If this evidence is deemed to be exculpatory or favorable to them, then the government, regardless of branch, has the ethical obligation to turn (it) over."
If the Mitchell commission shared information with the committee, its claims of attorney-client and attorney work-product privileges could be compromised, making the information in question available to Hardin.
"If the Mitchell investigators shared information with the congressional investigators or staff,"
Hilder said, "then any privilege would be waived and Mr. Clemens would be entitled (to the material)."
---
KTRH News Radio Round Table
December 2, 2010
Live Radio discussion with
Philip H. Hilder regarding the impact of the collapse of Enron on its anniversary of bankruptcy.
---
KTRH News Radio
December 1, 2010
Philip H. Hilder was interviewed regarding fraud related to the current financial crisis
---
Commodities Regulator May Be Sleeping Giant-Firm Commentary
The Commodity Futures Trading Commission (CFTC) has the reputation of a bulky bureaucracy that is too ineffectual to effectively discover and prosecute irregularities in the trading of cotton, soybeans or pork bellies the way the Securities and Exchange Commission does in the stock market. "But the Dodd-Frank Act that reforms Wall Street and our financial regulatory system may have added enough teeth to the CFTC to make the government agency a contender," says Houston white-collar criminal lawyer
Philip Hilder of Hilder & Associates. "The CFTC now has increased enforcement authority and new rules for stepped up reporting by traders it watches. Those things and the bounty hunter-like whistleblower provisions should change the prosecutorial effectiveness and reputation of the agency."
---
DeLay's conviction starts lengthy appeals process
RAMIT PLUSHNICK-MASTI
November 25, 2010
Associated Press, Kansas City Star
The conviction of Tom DeLay, once one of the most powerful Republican wheelers-and-dealers in Congress, marks the beginning of a lengthy and vehement appeals process that will seek to cleanse the name and record of the former House majority leader.
Some legal experts argue that such unprecedented cases immediately raise the interest of the appellate courts. Others, however, note that Texas' conservative, largely Republican appellate courts do not have a strong record of siding with defendants.
"Statistically, he is going to be fighting an uphill battle," said
Philip H. Hilder, a former prosecutor who is now a Houston-based criminal attorney concentrating on white-collar cases.
The courts could see it as a "partisan fight" though,
Hilder said.
"Then the courts are of his political persuasion," he added. "But still, they would have to rely on precedent and they will have to really do back flips to do any favor to him."
---
Judge Has Many Options in Sentencing ex-Rep DeLay
By: Juan A. Lozano
AP, Houston Chronicle
November 25, 2010
Former U.S. House Majority Leader Tom DeLay argued throughout his trial that the deck was stacked against him by a politically motivated prosecutor and a jury from the most Democratic city in one of the most Republican states.
But following DeLay's conviction Wednesday on money laundering and conspiracy charges, some legal experts say the edge may now shift to the Republican who represented a conservative Houston suburb for 22 years.
Before DeLay's inevitable appeal, which his lawyers predict will be a far friendlier process than his trial, he faces sentencing next month from Senior Judge Pat Priest. While technically the money laundering charge carries a punishment of up to life in prison, the judge has wide latitude and could end up just giving him probation.
"It is absolutely impossible he would get anywhere near life," said
Philip Hilder, a Houston criminal defense attorney and former federal prosecutor. "It would be a period of a few years, if he gets prison."
DeLay opted to be sentenced by Priest, a Democrat, rather than a jury in heavily Democratic Austin.
Hilder said that was a wise move, particularly if DeLay thinks he might be able to get by with just a probation sentence.
"The judge may be more receptive than a jury,"
Hilder said. "He obviously thinks he will get a fairer shake with the judge. The jury more likely would sentence him to prison time."
---
Chevron Philips Chemical Company Settlement
November 17, 2010
Hilder & Associates, P.C. announce a $2 Million settlement in a law suit against Chevron Phillips Chemical Company. The law firm is local counsel to the National Environment Law Center and assisted representation the Sierra Club and Environment Texas. The suit, filed under the Clean Air Act, found repeated violations by Chevron Phillips Chemical of Baytown, Texas that resulted in more than a million pounds of toxic pollution. It is hoped that the settlement agreement will promote the facility to significantly reduce air emissions, force extensive operational upgrades and increase air monitoring. The $2 Million penalty will establish an Environmental Health Clinic for children to be run by Baylor College of Medicine.
Hilder & Associates, P.C. was also local counsel in a similar prior matter against Shell Oil Company in 2009, where a $5.8 Million settlement was reached including the agreement to cut greenhouse gas emissions at Shell's Deer Park, Texas refinery.
---
5 years after indictments, DeLay's trial begins
AP
October 26, 2010
AUSTIN, Texas (AP) – Former House Majority Leader Tom DeLay, one of the most polarizing politicians of the Bush years, is finally getting his day in court, five years after being charged with illegally funneling corporate money to help elect Republicans to the Texas Legislature.
Philip Hilder, a Houston criminal defense attorney, said he does not believe the charges against DeLay are politically motivated.
"I think it is the responsibility of the district attorney to make sure the spirit of the finance laws are complied with, to ensure fairness in the system," said
Hilder, a former federal prosecutor.
---
Law makes it easier to blow whistle on corporate crime
By: Philip H. Hilder
Houston Chronicle
October 17, 2010
White Collar Crime Prof Blog

In reaction to the Bernie Madoff scandal, Congress has offered lucrative bounties and effectively deputized millions of Americans to tell the government about insider trading, securities fraud, bribery of overseas businesses and governments and a host of financial crimes that employees may see on the job.
The stakes are higher than when my client Sherron Watkins, a one-time Enron vice president, warned her bosses in 2001 about the company's accounting scandal. She was rewarded with inquiries about how to fire her. Back then, Watkins could not have cashed in on the potential bonanza for whistleblowers established earlier this year in the Dodd-Frank Wall Street Reform and Consumer Protection Act.
---
"The Supreme Court Ruling on 'Honest Services' Fraud and Ramifications to the Business Community: Skilling vs. U.S. Examined" Panel
On September 23, 2010,
Philip H. Hilder moderated a panel discussion "The Supreme Court Ruling on 'Honest Services' Fraud and Ramifications to the Business Community:
Skilling vs. U.S. Examined". The Panel examined the Supreme Court's decision to limit prosecution for honest services fraud. The event was co-sponsored by the Federal Bar Association – Southern District of Texas Chapter, and the ABA Criminal Justice Section White Collar Crime Committee.
---
Special delivery for traffickers
By: Dane Schiller
Houston Chronicle
September 22, 2010
Houston drug traffickers want the U.S. government to do their dirty work. The nation's postal system and private mail services are regularly the unwitting couriers of illegal drugs delivered coast to coast and door to door, according to federal court records. Traffickers consider slipping drugs and cash from their sales into the mail as more efficient than using their own couriers, said attorney
Philip Hilder, formerly a prosecutor in charge of the Houston office for the Department of Justice's Organized Crime Strike Force. "It is well known that it is a pretty easy, low-risk operation to either ship fairly small amounts of dope and/or money – illegal proceeds – through (the mail),"
Hilder said.
---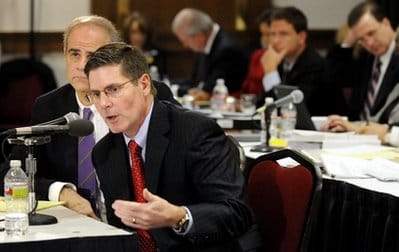 Risk-reward equation was used in building oil well in Gulf of Mexico, BP worker testifies
photo: AP, Reuters
By: David Hilzenrath, Joel Achenbach
AP. Washington Post
August 27, 2010
Cocales said he was weighing engineering risks associated with alternative approaches, and he thought less risk was associated with the course BP took. At the time, he said, he thought the "worst-case scenario" was that BP would have to do remediation work on the well, not that safety would be jeopardized, he testified Friday.
---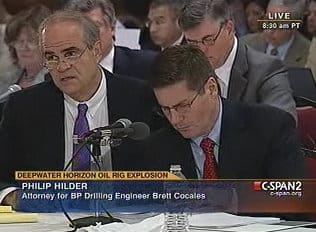 Philip Hilder assists firm client Brett Cocales at Coast Guard and Interior Department hearing, August 27, 2010.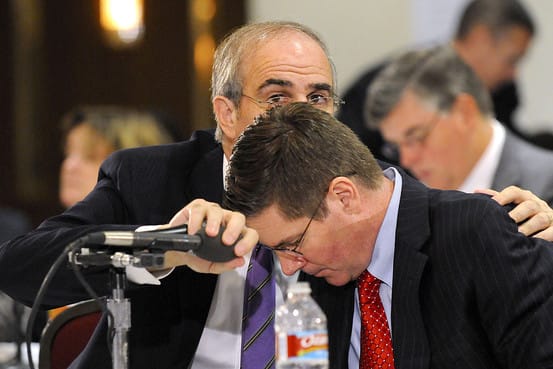 photo: Bloomberg news
---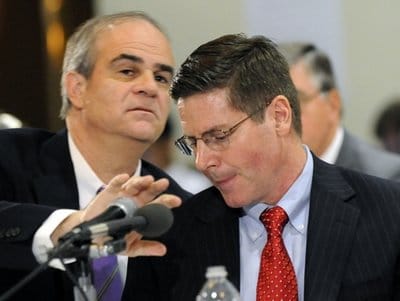 Legal Tactics Emerging at Oil Hearings
photo: yahoo news,
AP

By: Ben Casselman, Russle Gold
Wall Street Journal
August 29, 2010
HOUSTON-For five days last week, federal investigators grilled witnesses to answer key questions about the disastrous explosion of the Deepwater Horizon drilling rig: Why did it happen? How can we make sure it never happens again? But in their questions to witnesses, lawyers for the companies under scrutiny, focused on testimony that might answer another question: Who will pay?
Attorney
Philip Hilder assists firm client Brett Cocales during his testimony to the Coast Guard and Interior Department
---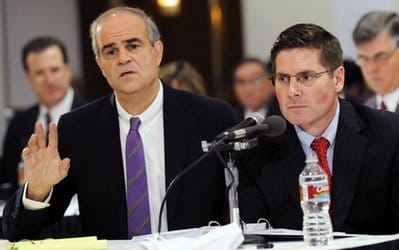 BP engineer defends decision on cement job
photo: yahoo news, Reuters
By: Tom Fowler and Brett Clayton
Houston Chronicle
April 27, 2010
A BP drilling engineer said Friday he doesn't believe a much scrutinized decision about the Macondo well's cement job posed a threat to the safety of the crew aboard the Deepwater Horizon rig. Under questioning by his lawyer,
Philip Hilder, Cocales also countered an assertion during testimony earlier in the week by Halliburton cementer Jesse Gagliano, who said he recommended 21 centralizers. Cocales said that figure was used in a computer model of cementing plans because there were already six centralizers on the rig and BP could only get another 15 out to the rig in short order.
Hilder also asked Cocales about a comment he made in one of his e-mails about the "risk/reward" balance. "It is a term that refers to economics?"
Hilder asked. No, Cocales said. "It's a term I've used for years, saying what are the pros and cons of a decision."
---
Philip Hilder talks to abc13 news about Clemens arraignment
August 29, 2010/abc13 news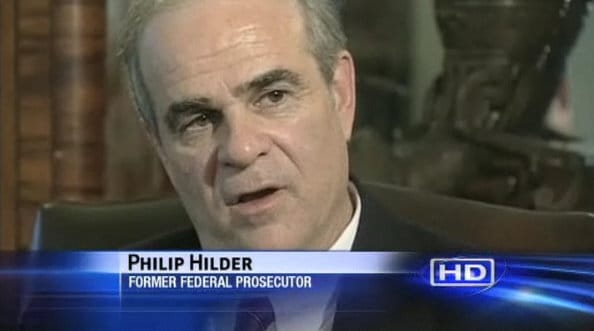 Officials at the federal courthouse in Washington, D.C., say that seven-time Cy Young winner Roger Clemens will be arraigned on Monday afternoon on criminal charges. The former pitcher will appear before U.S. District Judge Reggie Walton for allegedly lying to Congress about his use of steroids.
Philip Hilder talks to abc13 news about the case.
---
Clemens faces feds' favorite tactic
By: David Barron
Houston Chronicle
August 19, 2010
In the wake of an indictment for perjury Thursday, Roger Clemens must defend himself against a statute that one prominent defense attorney says prosecutors are employing in the same fashion that they once used tax evasion, the crime that put Al Capone behind bars in the 1930s. Clemens is almost certain to testify, according to Houston attorney
Philip Hilder. "It will come down to his credibility,"
Hilder said.
U.S. Supreme Court sides with Enron ex-CEO Jeff Skilling
740 KTRH Radio/Fox June 25, 2010
Philip Hilder was asked to appear on News Radio to provide legal commentary regarding the U.S. Supreme Courts decision regarding ex-Enron CEO Skilling
---
Philip Hilder speaks to ABC13 High court sides with ex-Enron CEO Skilling
June 24, 2010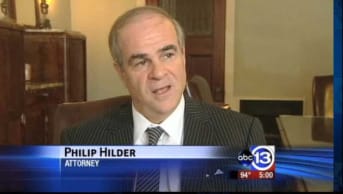 WASHINGTON — The Supreme Court on Thursday sharply curtailed prosecutors' use of an anti-fraud law that was central in convicting politicians and corporate executives in many of the nation's most prominent corruption cases. The ex-CEO of disgraced energy giant Enron and a Canadian media mogul, both in prison, are among the figures who could benefit from the ruling.
---
Philip Hilder speaks to FOX26 News: Supreme Court Reduces Enron
CEO's Sentence
June 24, 2010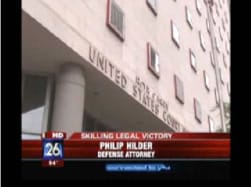 Ford Atkinson
HOUSTON – The U.S. Supreme Court handed Enron CEO Jeff Skilling a legal victory Thursday. Ruling prosecutors erred when they used the "honest services" law to help convict him. The high court, however, did not overturn Skilling's conviction for his role in the Enron scandal because prosecutors used additional laws to win the conviction
---
James Rytting speaks to Fox26 News regarding an appellate case
May 20, 2010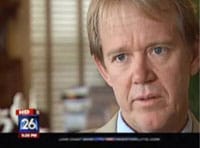 ---
Fort Bend County killer may be executed tonight
By: Allan Turner
Houston Chronicle
April 27, 2010
In rejecting Bustamante's 11th hour appeal, the state court asserted that he had failed to adequately establish that he is mentally retarded. James Rytting, one of Bustamante's attorneys said he will seek the Supreme Courts intervention on Bustamante's behalf but acknowledged that the best shot at saving his client had been instate court.
---
Inmate 'who liked to kill' set for execution Tuesday
By Allan Turner
Houston Chronicle April 26, 2010
This morning the Texas Court of Criminal Appeals rejected an appeal based on the assertion that Bustamante is mildly mentally retarded. The killer's attorney Philip Hilder argued that his client has an overall IQ of 71 and should be spared death under the U.S. Supreme Court's 2002 ruling in Atkins vs. Virginia. In that landmark decision the high court held that executing mentally retarded killers violates the Eighth Amendment's ban against cruel and unusual punishment.
Seeks delay from court. A second attorney for Bustamante, James Rytting, said they'll now ask U.S. Supreme Court to intervene. A petition to the Texas Board of Pardons and Paroles also has been filed, he said. Hilder argued that Bustamante's abusive childhood might have been a factor in his retardation, and offered comments from the killer's former common-law wife that he had been childlike and unable to care for himself. When sad or angered, the woman told a Baylor College of Medicine clinical neuropsychologist, Bustamante would roll into a fetal position and cry. In a terse dismissal of Bustamante's appeal, the state appeals court noted that the lawyers failed to adequately establish mental retardation. "It looks as if the state of Texas is going to execute a mentally retarded man," Rytting.
---
Casino Jack and the United States of Money
Released May 7, 2010.
The documentary of Washington super lobbyist Jack Abramoff is the story of political corruption, and of the most far-reaching Congressional political scandal in decades. Hilder & Associates, P.C. represented Tom Rodgers, the whistleblower that shed the spotlight on Mr. Abramoff. Mr. Rodgers is featured prominently in the documentary. Casino Jack is directed by Oscar-winning filmmaker Alex Gibney.
---
Former MHMRA Psychologist Leddy Convicted of Fraud
By Paul Knight
April 24, 2010 HairBalls Blog
A former psychologist with the Mental Health and Mental Retardation Authority of Harris County, who evaluated defendants in close to 1,000 criminal cases during his time with the agency, recently pled guilty to Medicaid fraud. Matthew Leddy, the psychologist, received a 30-day jail sentence and was required to pay $228,747.81 in restitution to the state, according to a representative with the Attorney General's office, the agency that prosecuted Leddy. He was also sentenced to 340 hours of community service and had to pay another $10,000 in fines. "I think it was a favorable resolution for all parties," Philip Hilder, (Hilder and Associates, P.C.) Leddy's attorney, tells Hair Balls. "[Leddy] has made restitution and would like to just move on with his life."
---
CNBC Airs Smartest Guys in the Room
April 1, 2010
ENRON: The Smartest Guys in the Room is the inside story of one of America's greatest business scandals, in which top executives of the country's seventh largest company walked away with more than $1 billion while investors and employees lost everything. The story begins in 1985 when Enron was formed through the merger of Houston Natural Gas and Internorth, the Omaha, Neb. natural gas company. By 2000, the company had grown into the largest natural gas merchant in North America, eventually branching out into trading other commodities, including water, coal and steel. Meanwhile, Jeff Skilling is named CEO, and the company stock skyrockets.
But when Enron's sleight of hand accounting and unethical trading eventually meet the realities of balance sheets that don't balance and products that don't exist, unwitting employees whose financial futures are anchored to the Enron ship watch in horror as it quickly sinks. Philip H. Hilder, attorney for Enron whistle blower Sharron Watkins, is featured in the film about his client and their experiences.
---
Texas killer gets a pass on death row
By PEGGY O'HARE
Published: Houston Chronicle
A federal district court ruled this week that a Houston man on Texas death row for 20 years for killing his boss during a robbery was not mentally competent to stand trial back in 1990 and ordered his release within 180 days unless the Harris County District Attorney's Office plans to retry him. Lawyers for Aldridge, also known as Salim El-Anwar Shabazz, called the ruling an< "extraordinary development" that is "highly unusual." "It really is amazing after being on death row for 20 years to finally have a court listen and evaluate what should have been considered initially," Aldridge's appellate attorney, Philip Hilder, said Friday. "The heart of the ruling is that Mr. Aldridge was never competent to stand trial."
---
The Second Annual National Institute on Internal Corporate Investigations and Forum for In-House Counsel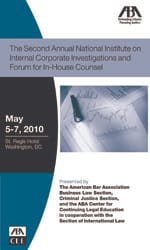 May 5-7, 2010, St. Regis Hotel, Washington, D.C.

Philip H. Hilder moderated the Panel "Proactive vs. Reactive Compliance Programs".
---
Rulford Garfield Aldridge
On March 17, 2010, death row client, Rulford Garfield Aldridge, had his conviction overturned by the Federal Court because of his initial incompetency to stand trial due to mental illness. The Court granted the Firm's Writ of Habeas Corpus petition and ordered Mr. Aldridge released from custody unless the State of Texas instituted new criminal proceedings. Mr. Aldridge has been on death row for 20 years. Mr. Aldridge, one of the longest serving death row inmates, was sentenced to death in 1990 for capital murder. No prior court had fully explored Mr. Aldridge's mental state and competence to stand trial. Firm attorney James Rytting was able to establish that Mr. Aldridge was never competent to stand trial. Click here to see Memorandum Opinion and Order and Final Judgment.
---
Federal Bar Association Conference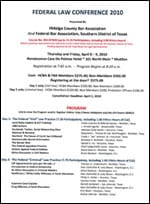 Philip Hilder was asked to participate in a panel discussion on Healthcare Fraud at the Federal Law Conference 2010, presented by the Hidalgo County Bar Association and the Federal Bar Association, Southern District of Texas, April 8 & 9, 2010, McAllen, Texas.
---
Enron ex-CEO Jeff Skilling's appeal before U.S. Supreme Court
740 KTRH Radio/Fox March 1, 2010
Philip Hilder was asked to appear on News Radio to provide legal commentary regarding Enron's ex-CEO Jeff Skilling's appeal that was heard before the U.S. Supreme Court.
---
Murdoch's Losses on Supermarket Coupons Near "Avatar" Earnings
By Linda Sandler, Sarah Rabil and Bob Van Voris
Published: BusinessWeek March 3, 2010
Rupert Murdoch, who may have spent the equivalent of the projected earnings of News Corp.'s hit movie "Avatar" to settle lawsuits against his supermarket-coupon unit, risks losing millions more at a trial over alleged anti-competitive behavior by the same business. Hilder and Associates' client, Robert Emmel, in a taped deposition played at the Valassis trial, stated that News Corp. allegedly offered Eckerd Corp. $4.5 million in guaranteed income over three years to join its "Price Pop" program. Emmel has aided News Corp. competitors with his testimony. Philip Hilder, a lawyer for Emmel, declined to comment.
---
Interim U.S. attorney for Houston named
By: Mary Flood
Published: February 10, 2010 Houston Chronicle
Interim U.S. Attorney for the Houston Region named. Houston Chronicle February 10, 2010. Angel Moreno, a Laredo based assistant U.S. Attorney, has been named the Acting U.S. Attorney for the Southern District of Texas. Philip Hilder, a former Federal prosecutor in Houston, said he went to trial against Moreno in Brownsville on the case of Juan Garza, who was later executed by the Federal government. "Moreno is an excellent selection. He is smart and methodical and will be a good people manager," Hilder said.
---
Former Willbros executives get prison in bribery case
By: MARY FLOOD
Published: January 29, 2010 Houston Chronicle.
Ex-Willbros Executives Get Prison for Bribery. Nigerian officials were paid six (6) million dollars to win pipeline contract. Page 1, Business Section. U.S. District Judge Sim Lake sentenced client Jim Bob Brown to a year and a day in prison for violating the Foreign Corrupt Practice Act. Firm attorney, Philip H. Hilder, was co-counsel.
---
Breaking Jack Abramoff
By Jerry Reynolds
Published: January 29, 2010
Indian Country Today ran a story on discredited Washington lobbyist, Jack Abramoff, being exposed by whistleblower Tom Rodgers. Rodgers' attorney, Philip H. Hilder in Houston, noted that even the DOJ had been polarized during the Abramoff years, though he withheld judgment as to whether politics had any bearing on the DOJ's Abramoff investigations. More will be known when the Department finishes its investigation; Hilder said Rodgers hired Hilder because he would need a guide through the legal and political minefield that might lie in wait. Hilder represented Sherron Watkins, the whistleblower in the Enron bankruptcy and corporate corruption case.
---
The man who blew the whistle on Jack Abramoff tells the story of how he did it
By: Susan Crabtree
Published: January 26, 2010 The Hill
Cover story of The Hill profiles "The Man Who Blew the Whistle on Jack Abramoff Tells the Story on How He Did It." Tom Rodgers was instrumental in shining the light on one of Washington's biggest scandals. Rodgers decided to hire a respected lawyer. Houston attorney Philip Hilder had represented Sherron Watkins, the whistleblower in the Enron case. Hilder cautioned Rodgers to lay low – or face the consequences. "I judge him to be quite credible, but I also know the realities of Washington – that if he would have reared his head, it would have been decapitated," Hilder says.
---
Documentaries generate buzz at Sundance
By: By RICK WARNER
Published :January 23, 2010
Sundance Film Festival. A client of Hilder & Associates, P.C., is featured in a documentary appearing at the Sundance Film Festival. The documentary, Casino Jack and The United States of Money, is a portrait of Washington super lobbyist, Jack Abramoff. The client, Tom Rodgers, was the whistleblower who exposed Abramoff resulting in one of the largest Congressional scandals in history. Oscar-winning filmmaker Alex Gibney is the director and screenwriter. The film will be released for general circulation in May.
---
U.S. attorney jobs filled at a slow pace
By Mary Flood
Published: Jan. 10, 2010, 11:40AM
U.S. Attorney Jobs Filled at Slow Pace. Houston Chronicle, February 10, 2010. "The U.S. Attorney isn't just a figure head, he or she is a decision-maker. The business of law enforcement isn't reaching its full potential here without a Presidentially appointed U.S. Attorney," said Philip Hilder, a defense attorney, former Federal prosecutor and Democrat activist.